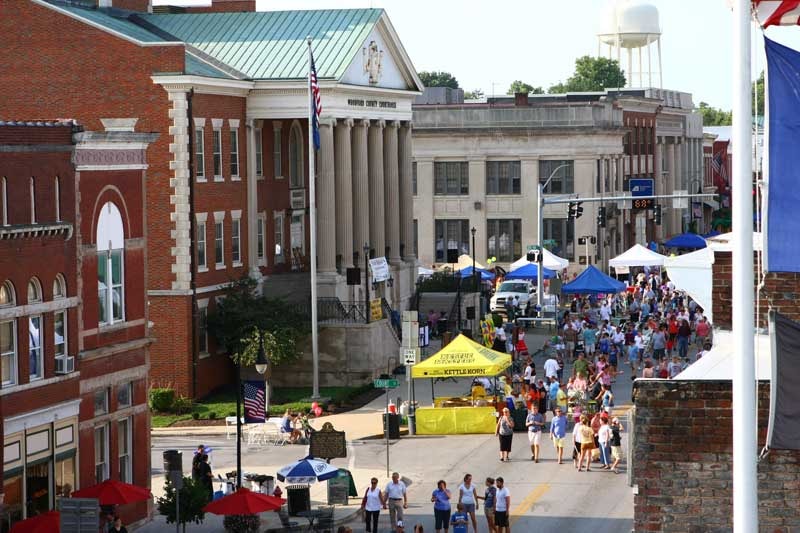 In many towns across America, a highway runs through the main street, and Versailles, Kentucky is one of these towns. Versailles has a population of approximately 9,300 and sits west of Lexington, Kentucky – a picturesque American downtown Main Street complete with businesses and restaurants. Unfortunately, Main Street is also where the US-60 highway comes right through town bringing significant traffic, including an increasing number of trucks that travel to and from the five manufacturing facilities based in the area. One of these manufacturing plants is the largest unoccupied facility in Kentucky.  As officials are marketing the facility to attract a new tenant to bring additional jobs to the region, Versailles is hurrying to find a solution before more traffic arrives too. The street intersections were not made for large trucks – especially one particular right-hand turn from Main Street onto the highway cut to get to US 62 – and the delays at this intersection often cause traffic accidents, frequent damage to utility poles and electric lines, and extensive delays as traffic frequently backs up for a full mile.  
"In the eight years we have been working to find solutions to this problem, the only thing that has happened is that the traffic has gotten worse. I believe that with fresh eyes and some help from the federal government we can find an alternative solution that will relieve seriously disruptive traffic, improve safety, and support our small businesses on Main Street."

Versailles City Councilman Michael Coleman
Locals have largely stopped coming to Main Street, wishing to avoid the significant delays that occur getting in and out of the area. This street is no picnic for the truck drivers either. In an industry built on timely deliveries, traffic delays force drivers to arrive late through no fault of their own. In recent years a transportation cabinet advisory committee was assembled to address the issues and to propose solutions. This group developed four proposals and each of them have been deemed unworkable by various interest groups in the region. But the status quo is not an option and Versailles needs support to find a way to get from US 62 to US 60 without going through Main Street.
Options to Separate Main Street from Freight Truck Traffic
While city leaders were optimistic about the four options proposed by the Transportation Cabinet, many of them involved the construction of a new route through neighboring horse farms which brought significant community disagreement. They believe with an increased budget and a fresh look at building an elevated bypass, Versailles can support local manufacturing, relieve congestion, improve safety, and support local jobs. But it will require resources to do a feasibility study and federal funding to reimagine what is possible.
Cities Are Ready to Rebuild with Congress' Help
Versailles' highway story is one of the hundreds across the country. From the smallest to largest communities, every community has an infrastructure story to tell, and NLC's latest Ready to Rebuild report showcases a range of transportation, water, broadband, and workforce projects across the country from communities of all sizes that Congress could support with legislation. While projects are different, the message from local officials was the same: infrastructure is a job worth doing, but in most places, it's now beyond what the local government can handle on its own. Does that sound familiar?
Take Action: Highlight Your City and Why You're #ReadytoRebuild
Join NLC as we keep calling on Congress to directly invest in local infrastructure and prepare for a better future.