Tempe, Arizona, is a city of 190,000 in the greater Phoenix region and home to Arizona State University's main campus. The City of Tempe has been steadily growing for the last 20 years and is home to a large university student population. With so much growth, Tempe city officials have had to figure out new opportunities for transit that do not involve adding cars to their streets. In 2008, Valley Metro opened its first light-rail system extending public transportation options and joining the city's extensive bus route system. The city is currently undergoing testing to launch a streetcar in Tempe that will open later this year. These major transit investments connect Tempe residents with the cities of Scottsdale, Mesa and downtown Phoenix.
Rio Salado Pedestrian Bridge Numbers at a Glance
Project Cost
$15 Million
Connected Bikeways Miles with Bridge
95 Miles
Total Miles of Bikeways
217 Miles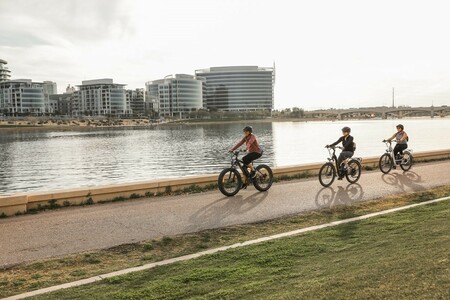 The next big step for Tempe is building better, safer access for bikes by opening up the Rio Salado Upstream Dam Bicycle and Pedestrian Bridge. The bridge would be dedicated for pedestrians, bikes and scooters only to create a direct, safe and continuous off-street connection to the surrounding communities and greatly reduce travel distance and potentially unsafe vehicular/bicycle/pedestrian conflicts. Currently, Rio Salado touches portions of the off-street bicycle facilities of Tempe, Scottsdale, Phoenix, and Mesa. Completion of this link will connect paths that will allow residents of these communities to directly and safely access regionally significant employment, commercial and entertainment destinations without leaving a shared-use path.  It's a connection worth making.
"With over 217 miles of bikeways, and over 40 miles of those being low-stress, off-street multi-use paths, we want to continue to build to make it easier for our community to get around on two or three wheels instead of four."

COUNCILMEMBER ROBIN ARREDONDO-SAVAGE
Tempe also has a chance to fix another key bike and pedestrian crossing that can back up the town near the Arizona State University campus. With over 70,082 students, it is one of the biggest universities in the nation with a rapid campus expansion happening over the last 15 years. When it gets busy, it can make it difficult for students and residents to maneuver around, especially at a major crossing point for the campus at the intersection of University Drive and College Avenue. Only one overpass allows students and residents to cross over the street safely, but it is often crowded during peak hours. Crossing at street level leads to congestion that can back up traffic for a half-mile during peak hours. The best solution is building the University Drive and College Ave Underpass which will allow for pedestrians and bicyclists to safely connect the campus with local businesses, student parking and other transportation hubs in the area while letting traffic flow at the surface level.
University Drive & College Ave Underpass Numbers at a Glance
Project Cost
$6.9 million
Arizona State Student Enrollment
70,082
How Improving Bike Infrastructure Helps Tempe
A federal investment in projects like the Rio Salado Upstream Dam Bicycle and Pedestrian Bridge and the University Drive and College Ave Underpass projects will bring good-paying jobs – from the initial development and planning stages through construction. Once they're finished, the projects will provide safe access for any resident – especially those who cannot afford or choose not to own a car – to get to major employment and recreational centers along the Tempe Town Lake, Downtown Tempe, Arizona State University, Scottsdale, Mesa, downtown Phoenix and Salt River Pima Maricopa Indian Community.  
"We need more federal investment for projects like the University Drive and College Ave Underpass to help achieve our goal to eliminate all traffic fatalities and serious-injury crashes."

COUNCILMEMBER DOREEN GARLID
Cities Are Ready to Rebuild with Congress' Help
Tempe's pedestrian and bike traffic infrastructure story is one of the hundreds across the country. From the smallest to largest communities, every community has an infrastructure story to tell, and NLC's latest Ready to Rebuild report showcases a range of transportation, water, broadband, and workforce projects across the country from communities of all sizes that Congress could support with legislation. While projects are different, the message from local officials was the same: infrastructure is a job worth doing, but in most places, it's now beyond what the local government can handle on its own. Does that sound familiar?
Take Action: Highlight Your City and Why You're #ReadytoRebuild
Join NLC as we keep calling on Congress to directly invest in local infrastructure and prepare for a better future.