Kansas City has a population of 505,000 spread out over 318 square miles with a dense urban core, but it also has areas that are far less dense suburban and rural. For decades, the population remained relatively stable, but that has started to change. In the last 10 years, the portion of the city north of the Missouri River grew by an astounding 95,000 residents. Houses typically sell within 1-5 days on average before being sold, and all are selling above asking price.
Now, with a $1.5 billion data center coming to Kansas City that will bring 1,487 well-paid, daily construction jobs, city officials have no time to waste. Even with a few years, it is time to start building the matching housing and transportation needed to meet current and future demand. In the most rural council district of Kansas City lies a tremendous opportunity to boost the city's economy, address future housing needs, and provide residents with hiking and bike trails: The Tiffany Greens Project.
Numbers at a Glance
Project Cost
$16 million
Single Family Homes
1,318
Combined Retail and Office Space
800,000 Sq Ft
Multi-Family Units
304
Kansas City is Ready to Welcome New Residents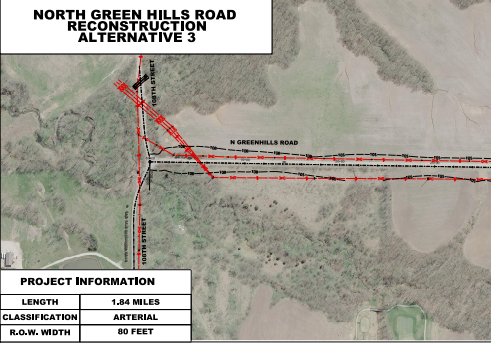 In the Northwest part of town is NW Green Hills Road which runs directly north-south through the city along the Kansas City International Airport (KCI) corridor. The area is home to industrial warehouses and other job centers. NW Green Hills Road is a hilly road in need of repairs that is largely agricultural and is open for development. City officials want to prepare the city and the area for commercial and residential development on Green Hills Road with wider lanes, a revised vertical profile to minimize hills and valleys, redesigning intersections for safety, curb, gutter, and underground stormwater collection and conveyance, sidewalks, LED street lighting, and a ten-foot-wide multi-use trail. The repairs will not only accommodate Kansas City's growing population but will also safely support the large trucks needed for the construction of the new development. With new bike lanes and hiking paths, building housing in that area would have a synergistic effect. But without federal support, the city does not have the funds needed to improve Green Hills Road.
"We need to be prepared for the next five, ten, and 20 years of our housing needs to alleviate the city's density. If we redesign, reconstruct, and improve this road we can invite new development. If we don't, it will be a missed opportunity to grow a part of our city that is primed to help boost the region's economy."

Kansas City Councilman Dan Fowler
Cities Are Ready to Rebuild with Congress' Help
Kansas City's infrastructure story is one of the hundreds across the country. From the smallest to largest communities, every community has an infrastructure story to tell, and NLC's latest Ready to Rebuild report showcases a range of transportation, water, broadband, and workforce projects across the country from communities of all sizes that Congress could support with legislation. While projects are different, the message from local officials was the same: infrastructure is a job worth doing, but in most places, it's now beyond what the local government can handle on its own. Does that sound familiar?
Take Action: Highlight Your City and Why You're #ReadytoRebuild  
Join NLC as we keep calling on Congress to directly invest in local infrastructure and prepare for a better future.