Cities across the country and worldwide are facing increasing challenges around extreme heat, a threat that kills more Americans than any other weather event. Urban and suburban areas are particularly susceptible to heat risk due to the "urban heat island" effect, where roads, parking lots, buildings, and other elements of the built environment absorb and radiate significantly more heat than green, grassy, and natural landscapes.
According to a recent nationwide study, neighborhoods that were denied loans or access to mortgages in the mid-20th century typically lack green space and suffer most from the urban heat island effect. Within the same city, some neighborhoods—often lower-income, immigrant, or communities of color—can be up to 20°F hotter. As cities recognize that risk is not equal across communities, elected officials and staff are taking action to better understand and address these disparities.
To support local heat mitigation efforts, NOAA's National Integrated Heat Health Information System (NIHHIS), CAPA Strategies, and several other partners recently launched the 2021 community-led Urban Heat Island Mapping Campaigns for cities to identify their hottest neighborhoods. These campaigns will take place during peak summer days in eleven states across the country. The communities include Albuquerque, Atlanta, New York, Charleston, Kansas City, Missouri; San Diego, San Francisco, and parts of New Jersey, Indiana, and Virginia. Two of NLC's 2021 Leadership in Community Resilience grantees, Raleigh and Arlington (through the Resilient Mystic Collaborative in Massachusetts), will also participate.
"The mapping campaigns provide a roadmap to help communities alleviate these [urban heat island] disparities by identifying specific locations where heat-mitigating interventions could save lives," said Vivek Shandas, study co-author, Portland State University Climate Adaptation Professor, and CAPA Strategies Advisor.
The mapping campaigns have empowered many other U.S. communities to create partnerships between local jurisdictions, community-based organizations, museums, and citizen science groups to map urban hot spots in their cities over the past four years. This summer's new campaigns will cover neighborhoods on both coasts and across America's heartland.
How it Works
Using heat sensors mounted on cars and bikes, residents (some are volunteers, others receive a stipend for their participation) traverse their neighborhoods once in the morning, afternoon, and evening on a scorching hot summer day. The sensors record temperature, humidity, time, and the residents' location every second. NOAA's National Weather Service provides weather information to help communities plan their campaigns.
The campaigns raise awareness among communities regarding health risks of high heat exposure, and support creative, resident-led and data-driven decision-making.
"My youngest child was my navigator," said a volunteer who participated in the Houston campaign last year. "This was a great opportunity for her to learn about inequities and a chance for both of us to do our part in making a change."
Cities from past campaigns have used the heat maps to inform heat-mitigation decisions, educate residents and policymakers, and direct targeted research on effective, equitable solutions. The city of Houston incorporated the mapping results into its Climate Action Plan. The city of Richmond, Virginia used data from the heat island campaign to turn city-owned land into new community green spaces.
"Communities are taking action to manage dangerous extreme heat that's impacting their families and neighbors," said Hunter Jones, Climate and Health Project Manager with NOAA's Climate Program Office. "As climate change brings worsening heat waves, the information from these campaigns will help bring local and equitable solutions to those facing the greatest threat."
About the NOAA Climate Program Office
NOAA's Climate Program Office manages competitive research programs that fund high-priority climate science, assessments, decision support research, outreach, education, and capacity-building activities. CPO's work is designed to advance our understanding of Earth's climate system and prediction across timescales, provide timely and authoritative climate data and information for a climate-smart nation, and to foster the application of this knowledge in risk management and adaptation efforts to help Americans plan and respond. CPO-supported research and activities are conducted in regions across the United States, at national and international scales, and globally. For more information, visit cpo.noaa.gov and climate.gov, follow NOAA Climate.gov on Twitter, Facebook, and Instagram, and subscribe to the Climate.gov newsletter.
Stay Updated
To get updates from Arlington, Raleigh, and all the other summer 2021 campaigns and to learn more about how heat impacts communities (and what you can do), subscribe to the Heat Beat Newsletter and follow #UrbanHeatMaps2021 on social media. Find more health resources on extreme heat from NIHHIS.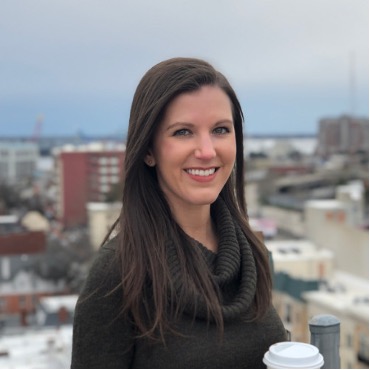 About the Author:
Alison Stevens is a Communications Specialist for NOAA's Climate Program Office (CPO).