Throughout the COVID-19 pandemic, Lexington's Town Council took a number of measures to make sure the Town was adequately responding to the crisis at hand and to ensure we could recover and rebuild our community as quickly as possible.
The Town kept citizens and businesses engaged and connected through multiple means of communication including social media, virtual meetings, automated calls, monthly letters, emails, distribution of fliers, etc.
Town Council responded by first restricting public access to Town Hall and put alternate means of doing business into place. Upcoming events were also cancelled. Then a series of Emergency Orders were signed as the pandemic continued, addressing the needs of the community as things changed.
Emergency Orders signed in response to the COVID-19 pandemic included the following:
Temporary suspension of normal council meeting procedures, allowing Council and the public to participate remotely.
A mask ordinance that required a face covering in all grocery stores, pharmacies, big box stores and other retail establishments within Town limits.
Suspension of late payments for the 2% Hospitality Tax on prepared food and beverages.
Suspension of water and sewer cutoffs and waived late penalties for multiple services.
Suspension of court proceedings.
As the Town entered into the recovery phase, Council took the following actions in an effort to help citizens and businesses alike:
Passed a $1 million dollar loan program to aid in-town businesses in partnership.
Removed the sunset date on the Hospitality Tax which allowed for a 21% cut in property taxes (marking the third property tax cut in the past 30 years), funding in full for all ongoing traffic improvements and funding for future projects as well.
Established a $250,000 utility rebate program that allowed customers to receive a dollar-for-dollar rebate on their monthly bill for up to $25 spent in-town.
Allowed temporary signage to be placed outside of businesses without a permit.
Although the pandemic caused some setbacks, the rebuilding process is already evident.
During the past year, the Icehouse Amphitheater Pavilion was built and is now serving as the new home of The Market, which features local farmers, artisans, live music and more. The Pavilion has also been used for vendors to set up during our annual Lexington Live Concert Series which has resumed after being cancelled last year.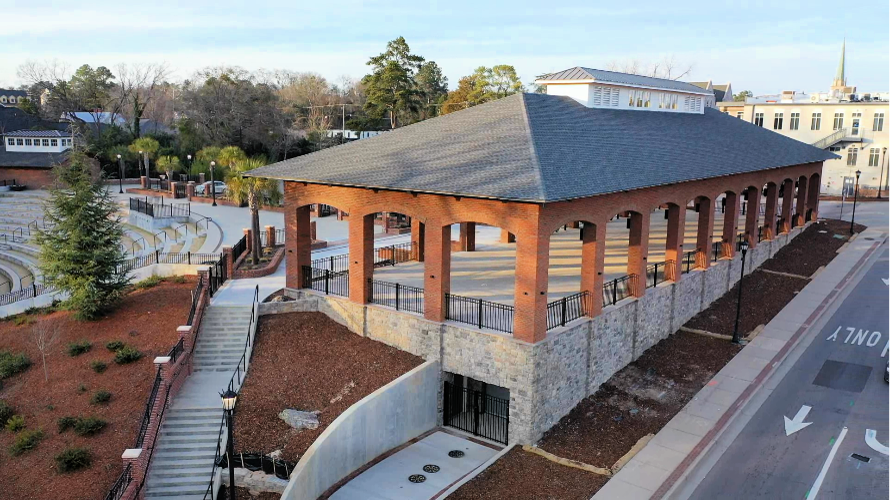 Restoration of the Gibson Pond Park Dam also moved forward during the pandemic and is almost complete. The previous dam was washed away during the historic flood of 2015. Since the park was closed during construction, the Town has also worked on other improvements as well including a new picnic shelter.
Although 2020 was a very different year, the Town of Lexington is blessed to have been able to help our residents and businesses who were impacted and we are looking forward to what's ahead.