More than 8 in 10 middle-skill jobs require digital skills, yet 1 in 3 American workers have very limited or no digital skills. And in the last year, the COVID-19 pandemic has disrupted the way we work, the way we learn, and the way we operate our businesses — accelerating the demand for programs that help people gain the skills they need to start new careers.
At Google, we have always believed that technology can be a powerful equalizer. Through our Grow with Google initiative and partnerships with local communities (libraries, chambers of commerce, and nonprofits), we've trained more than 6 million Americans on digital skills and invested in building tools and training to help create pathways to high-quality jobs.
Google Career Certificates are a big part of this skilling and workforce inclusion initiative. Our certificate program offers self-paced, online job training that prepares people for careers in the fast-growing fields of data analytics, project management, user experience (UX) design, IT support, and Android development. Learners can complete the program in three-to-six months and graduates can share their resumes with 130 local and national employers who consider graduates for related entry-level roles. The course content is designed and taught by Google employees, and no college degree or experience is required to enroll.
Over 50,000 people have graduated from the program and 82% say the program helped them advance their job search or career within six months of completion. That includes graduates like Amie Hanbury, a U.S. Marine Corps veteran who struggled to balance her career with raising a family. While working in a job in retail that she found unfulfilling, she enrolled in the Google IT Career Certificate, and when the pandemic hit, it motivated her to push through the full set of courses. Soon after graduating, she landed a job as a Field Service Technician at Core Technologies. With her new role, she's excited about her future and continues to gain more confidence in the field, crediting the IT certificate for giving her such a strong foundation. "I am constantly being told by colleagues with more experience how knowledgeable I am and users are impressed with my abilities and professionalism. The courses also showed me that it is never too late to find a new passion, and now I'm exploring other areas like programming."
There are 1.3 million job openings across certificate fields and we know city leaders will play a big role in filling these positions and preparing their local workforce for the future. Here are a few ways to help your community get on the path to in-demand jobs:
Expand access for job seekers in your community
Google works closely with organizations like the National Association of Workforce Boards (NAWB) to make sure that local workforce development boards, one-stop career centers, and local employers know about the Google Career Certificates, are able to refer local job seekers to the program, and — most importantly — connect graduates to local jobs. Google provided NAWB with scholarships for job seekers across different local workforce boards to access Google Career Certificates for free.
We've already seen how the workforce ecosystem can leverage these certificates to meet employer and job seeker demand. For example, Denver Workforce Services connected its unemployed or furloughed workforce to the Google IT Support Certificate through the Coursera Workforce Recovery Initiative. Denverites that took advantage of this program were offered an on ramp into the IT industry and for others, the ability to upskill back into the workforce. Denver Workforce Services will also be providing scholarships as part of our partnership with NAWB. "The professional certificate programs can help demonstrate applicants' aptitude for learning and engagement in the tech space," says Shannon Jahn, an employer services liaison for the IT/healthcare sector at Denver Workforce Services.
If you know a local workforce board that wants to offer scholarships, refer them to the National Association of Workforce Boards (NAWB) at nawb.org/grow-with-google.
Call on employers in your community to hire program graduates
Google's employer consortium helps top employers across industries (telecom, finance, retail, and more) connect with program graduates and achieve their talent diversity, equity and inclusion commitments. Over 130 national and local employers, like Walmart, Verizon, Accenture, Deloitte and of course, Google, are using this inclusive talent pipeline to source qualified candidates. By becoming a member, employers of all sizes can access recruiting tools, participate in interview days, send emails to graduates about open roles, and gain recognition with a "Google Participating Employer" digital badge that they can share publicly.
Our Employer Consortium is expanding, so please spread the word to employers in your community and learn more at grow.google/employers.
Encourage Community Colleges and CTE high schools to offer the certificates
The Google Career Certificates program provides practice-based training for students in community colleges and career and technical education (CTE) high schools in IT support, user experience design, data analytics, and project management. Adaptable curricula are tailored to the needs of a changing labor market to support institutions to help prepare students for careers in high-demand fields. Whether learners decide to get a job or continue to higher education, there are resources to support the next step in their journey, including a recommendation of 12 college credits (ACE) for the IT Support Certificate and access to resume and interview resources. Nationwide, 200 community colleges and CTE high schools are participating in the Google Career Certificates, including Dallas College in Texas, Yavapai College in Arizona, and Community College of Aurora in Colorado.
To bring the Google Career Certificates to schools in your community, please visit grow.google/certificates-edu/.
By bringing Google Career Certificates to cities and local communities, our goal is to not only provide people with the job-ready skills they need, but to also connect these qualified candidates with employers who are looking to fill open roles. We are committed to ensuring that economic opportunity is available to everyone.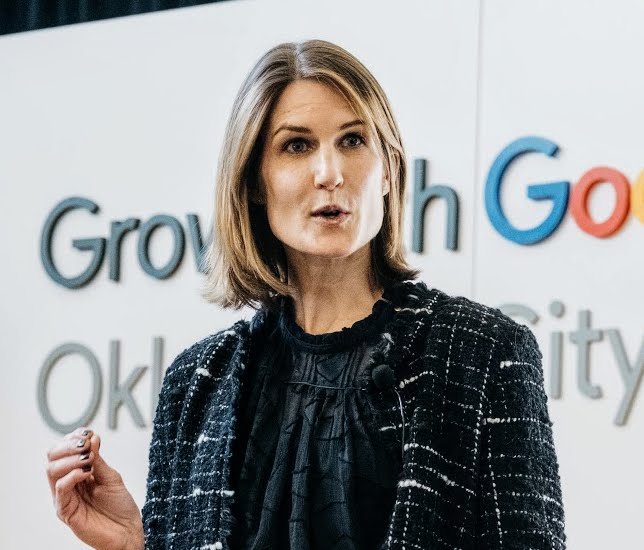 ABOUT THE AUTHOR:
Jesse Haines created and leads Grow with Google, the tech company's economic initiative to provide Americans with tools and resources to prepare for work, find jobs, and grow their business. Since its launch in 2017, the effort has trained over 6 million Americans, built innovative pathways to jobs through the Google Career Certificate program and partnered with +800 local organizations to deliver digital skills training across all 50 states.