As the COVID-19 pandemic radically changed our lives in March 2020, cities around the nation faced an urgent challenge: finding virtual technology that would allow them to share essential and lifesaving information with their communities.
Mayor Tim Keller and the City of Albuquerque innovated in real-time, leveraging technology to engage with as many residents as possible. Strategies ranged from daily COVID-19 briefings to live telephone town halls. By innovating how the City communicated with its residents, they increased their reach and built an ongoing dialog. They specifically used communication tools that allowed for both broad and localized public outreach while also directly connecting people with the Mayor and other experts from the City.
Since coming into office, Mayor Keller has made it a priority to make city government more accessible. When the pandemic hit, he knew the city needed to ramp up their outreach efforts to provide a safety net for the most vulnerable in Albuquerque and ensure information, services, and resources were reaching people that needed them most.
Here are some of the methods the City of Albuquerque used for COVID-19 communications:
The City of Albuquerque created a COVID dashboard on the City's website that not only included COVID-19 resources but also highlighted and celebrated local victories, showing how the community came together in a time of uncertainty. As of May 5, 2021, the City has served over 847,00 meals to seniors and provided over 637,000 hours of childcare to frontline workers, to highlight a few "Brightspots."
COVID information was added throughout the city's website so residents could quickly and easily find information and resources. Resources were translated into multiple languages, posted online, and distributed to community partners through our Office of Equity and Inclusion and our Office of Immigrant and Refugee Affairs. This ensured more residents had vital and lifesaving information regardless of their immigration status or which language they speak.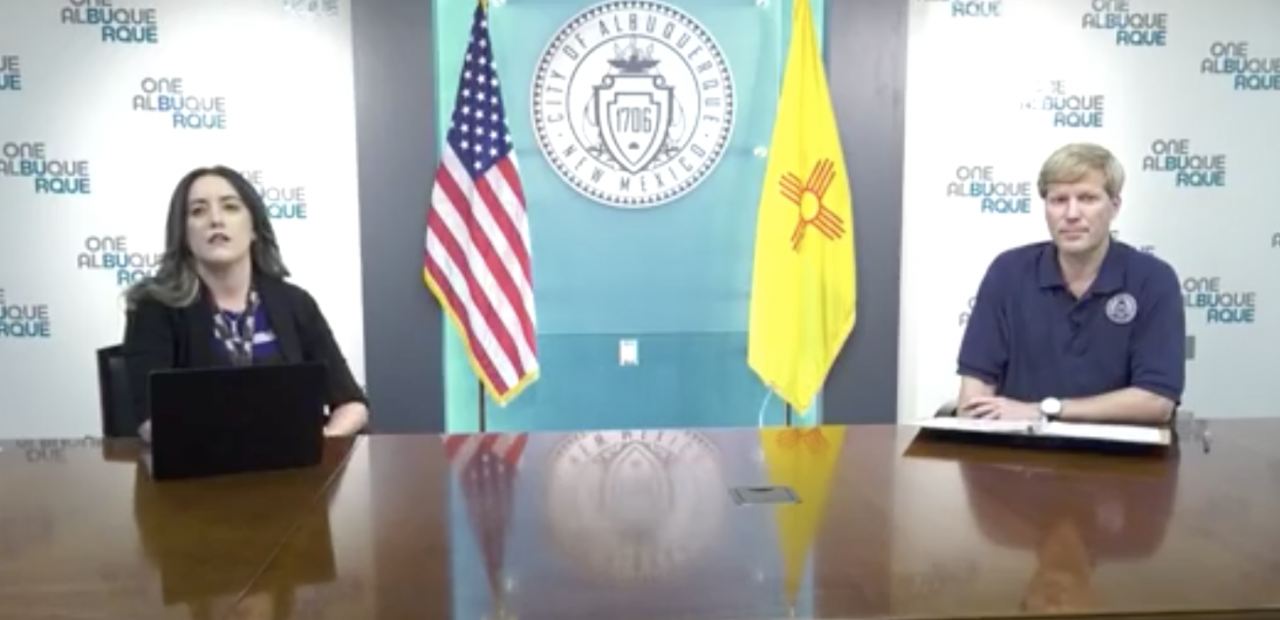 Mayor Tim Keller and City Councilors would go live on Facebook to help residents dive deeper into the latest news about COVID-19 and the City's response. With so many daily developments, especially at the start of the pandemic, the administration knew that dialogue was critical. A staff member would review comments coming in on Facebook Live and relay them to the hosts who would respond and answer in real-time.
The City of Albuquerque hosted regular virtual telephone town halls through the Access Live™ platform, reaching many demographics, including those who don't have access to the internet. This technology made thousands of people directly aware of what the City was doing in response to COVID-19, programs that could help them, and it allowed Mayor Tim Keller and a panel of local experts to moderate and answer questions from residents quickly.
The telephone town halls allowed for real-time connection, even during the pandemic. With two young children, a working spouse, and two sets of elderly parents in town, Mayor Tim Keller felt the same anxiety and fear we all felt from the COVID-19 pandemic. Speaking directly to residents helped to process the changing information in partnership with the community.
Of the overall population of New Mexico, 26.4% are native Spanish speakers. The City of Albuquerque used translators and Spanish-simulcast Access Live events to communicate with Spanish-speaking residents effectively. As the City's communication team said, "Having an opportunity to share information live in both English and Spanish was important to us, and it was something our community was asking for. For the Access Live platform to be able to accommodate that in real-time was transformative for our virtual events."
Providing opportunities for youth and support for families are priorities for the Keller Administration. As the pandemic continued, the City hosted topic-specific town halls with a wide range of guest speakers, including one focused on the 2020-2021 school year for parents. This Access Live town hall helped the City to inform parents and families on how to navigate school in a COVID world and how the pandemic was affecting early childhood development.
Follow-up to these Facebook Live and Access Live town halls was essential to the communications team at the City of Albuquerque. Access Live events allowed for participants to leave a voicemail after the event so a team member could reach out directly to them. The City shared the recordings of these events on their website and in their newsletter, so residents who could not participate could listen at their convenience. The questions asked during the events also shaped the City's FAQ portion of their COVID-19 dashboard.
Mayor Keller provided live daily COVID-19 briefings to give updates to residents. In the early weeks of the pandemic, things were changing daily, so it was critical to have consistent communication that the community could rely on for up-to-date information. Briefings were broadcast on Facebook, YouTube, and government access channels.
Through these various methods, the City of Albuquerque successfully achieved public outreach during the COVID-19 pandemic and is planning to build upon these strategies in their post-pandemic communications. From online public surveys to virtual public forums and working groups, the City continues to incorporate these tools into community-led initiatives in key areas like public safety, city planning, and sustainability. Albuquerque is looking forward to what's next and looking forward to coming back stronger.