Separating the Rail and Road Congestion Pain Point in Burlingame, CA, for Safety and More Commuter Trains
Burlingame, California, is a smaller city of 30,000 residents located in the heart of Silicon Valley, between San Jose and San Francisco, but being small doesn't lighten the congestion problems as the area's population continues to grow. It just makes it harder to fund the fix they need – a separation between the railroads coming through and the vehicular traffic on local roads that need to stay moving. 
Numbers at a Glance

Project Cost
$300 million
Amount that Burlingame can contribute to the project
$15 million
Number of trains per day
92
Number of trains per day by 2040
220
Burlingame's most notorious traffic congestion is the railroad crossing at Broadway, which serves as a major gateway to the city. More than 70,000 vehicles, pedestrians and bicyclists use Broadway on a daily basis – twice the population count of the city itself. Broadway links the region from US 101 with direct connections to the downtown commercial district, Rollins Road industrial area, auto dealerships, and numerous hotels and hospitality services along the bay front.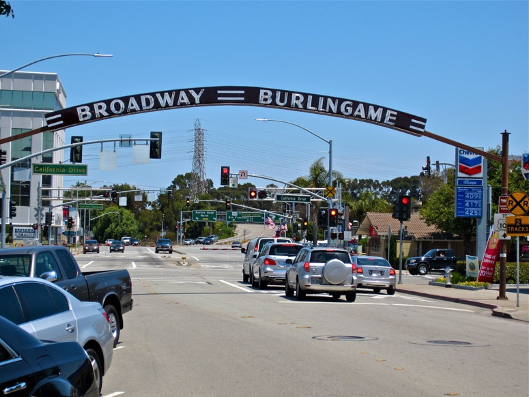 The existing Broadway rail grade crossing was built in the early 1900s as part of the railway that was constructed in the 1860s along San Francisco Bay Area peninsula. More than 100 years later, today's traffic and train volumes have rendered the grade crossing outdated, unsafe, and inefficient. The Broadway crossing comprises of six busy traffic lanes without shoulders, busy bicycle lanes and narrow sidewalks. Pre-Covid, conditions, the average traffic delay as a result of grade crossing gate downtime at Broadway was 8 minutes/peak hour. Without any improvements, it's projected that by 2040 this delay would increase to nearly 25 minutes. Furthermore, in the last five years there were nine train-vehicle collisions recorded at this crossing, making this intersection very dangerous for motorists, bicyclists and pedestrians. 
Pre-pandemic, more than 90 Caltrain trains would pass through the city daily, and Caltrain has projected that weekday volumes will double by 2040. While these trains provide critical transit service, the congestion is exacerbated by gate down times from the frequent Caltrain commuter trains, and resulting in increased safety hazard for the motorists, bicyclists and pedestrians. In addition to Caltrain traffic, Union Pacific freight trains run along this corridor typically at night when Caltrain is not in service. 
Burlingame is Ready to Fix the Broadway Grade Separation
"Burlingame is a growing city that supports improved rail service through the region," said Councilmember Emily Beach, "but we cannot fund Broadway grade separation on our own.  We're asking Congress to remember the communities between Point A and B that need critical railroad safety improvements. Fixing at-grade crossings will significantly help reduce congestion for our region, better connect residents and travelers with the business community, improve our air, and quality of life. It's a win-win-win for everyone."
Learn More
To learn more about the Broadway Grade Separation Project, click here.
How Fixing Broadway's Grade Separation Helps Burlingame
Removing the Broadway at-grade crossing and replacing it with a grade separation will increase safety for pedestrians, bicyclists and motor vehicle passengers by completely eliminating conflict with trains.   Of the 10,000 plus at-grade crossings in California, Broadway is currently ranked the #1 project statewide by the California Public Utilities Commission (CPUC) for grade separation to improve safety.  According to CPUC, this improvement will lead to reduced traffic congestion and lower motor vehicle emissions and greenhouse gases because cars will not be idling while waiting on trains.
Congress Can Support Projects Like Burlingame's
NLC is a strong supporter for a bipartisan infrastructure package that can meet the transportation and workforce needs of cities like Burlingame. Members of Congress have prioritized a bipartisan infrastructure package, and President Biden has proposed the American Jobs Plan to invest in our communities through investments in infrastructure and jobs. As discussions in Washington progress on an infrastructure package, cities like Burlingame will see the greatest benefit if funds from the American Jobs Plan are directed to cities.
Join Us
Together, we're asking Congress to pass an infrastructure bill that cities and towns can use to rebuild at home. Join us and send a note to your Member of Congress and Senators.