The sprawling County of Los Angeles includes 10 million residents and 88 distinct cities all with one regional transit system: L.A. Metro. Riders in L.A. County rely on L.A.'s Metro system to travel across the expansive area, and they supplement those rides with shorter neighborhood transit options in the County's smaller cities. Who are these riders? Almost 70% of Metro customers are very low or extremely low-income earners; the median household income of Metro riders is just over $19,000 per year.
Numbers at a Glance
Annual Cost for K-12, Community College, and Low Income Fareless Riders
$325 million
Daily LA Metro Ridership
600,000
Median Household Income of Metro Riders
$19,325
K-12 Student Boardings in FY19
26 million Rides
There are currently 1.4 million K-12 students in L.A. County and, according to the California Department of Education, approximately 990,000 (69%) students qualify for school free and reduced lunch programs due to their low-income status. L.A. Mayor Eric Garcetti chairs the Board of Directors for L.A. Metro and, in his annual State of the City address, called for a Fareless System Initiative (FSI) which would offer fare-free transit rides to the people of L.A. County earning 50% or less of area median family income set annually by the federal Department of Housing and Urban Development. Removing the financial barrier posed by transit fares is a significant step in improving access to this expansive transit system. This program will also contribute to the post COVID-19 economic recovery in the County, supports the reduction of greenhouse gas (GHG) emissions, attracts riders back to the system, and lessens both fare-related disputes and the costs associated with fare collection and enforcement.
L.A. Plans to Remove Financial Barriers to Transit Ridership and Boost School Attendance
"The Fareless System Initiative directly benefits families struggling to afford basic necessities—things like rent, food, healthcare, and education," said Deputy Mayor of Economic Opportunity and Chief Equity Officer Brenda Shockley. "The ability to offer free transit rides for those in need addresses and relieves the additional expense of transportation."
The Country's Largest Equity in Transit Program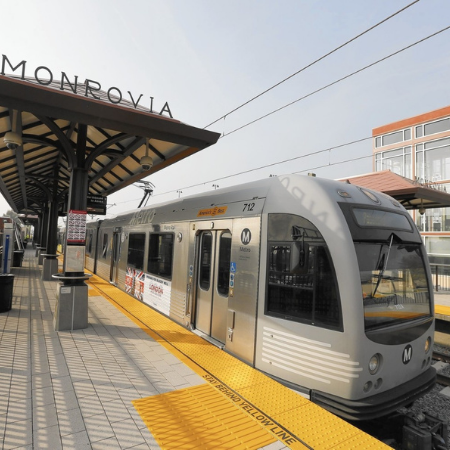 Leaders at L.A. Metro are developing a phased pilot program that would begin in August 2021 for all K-12 students, as well as Community College Students, as they return to campus for in-person learning. Based on data from L.A.'s Department of Transportation's free DASH to Class Program and the city of Sacramento's free student program, student ridership has been shown to increase over 100% once fares become free. Per L.A. Metro's Office of Management and Budget, in the fiscal year 2019, there were approximately 26 million transit boardings by K-12 student riders; the ability to make those 26 million rides free of cost would be a tremendous boost to family finances and academic success. The initial estimated total cost of launching the phased pilot program for K-12 and Community Colleges students in August of 2021 is nearly $60 million. Upon the pilot program launch in fall 2021, the program would expand to offer free rides to all low-income riders county-wide. A successful execution of this program would make it the largest free transit ridership program in the United States, if not the world. Importantly, the scale of this County-wide Fareless System Initiative – from the coordination across these 88 cities to all of the program financing required – will only be possible with federal investments.
Congress Can Support Projects Like L.A.'s
NLC is a strong supporter for a bipartisan infrastructure package that can meet the transportation and workforce needs of cities like L.A. Members of Congress have prioritized a bipartisan infrastructure package, and President Biden has proposed the American Jobs Plan to invest in our communities through investments in infrastructure and jobs. As discussions in Washington progress on an infrastructure package, cities like L.A. will see the greatest benefit if funds from the American Jobs Plan are directed to cities.
Take Action
Together, we're asking Congress to pass an infrastructure bill that cities and towns can use to rebuild at home. Join us and send a note to your Member of Congress and Senators.