On Friday, May 7th the National League of Cities Early Childhood Success Team along with cities across the Cities Supporting the Early Childhood Workforce initiative celebrated National Provider Appreciation Day, a day to recognize the hard work, dedication, and tireless efforts of the early childhood workforce.
Over the past year we have seen essential workers serving and protecting our nation nonstop through the first global pandemic in over a century. As the pandemic continued, municipal leaders began to recognize the importance of early childhood education and this essential workforce to ensure families can be fully present at their jobs.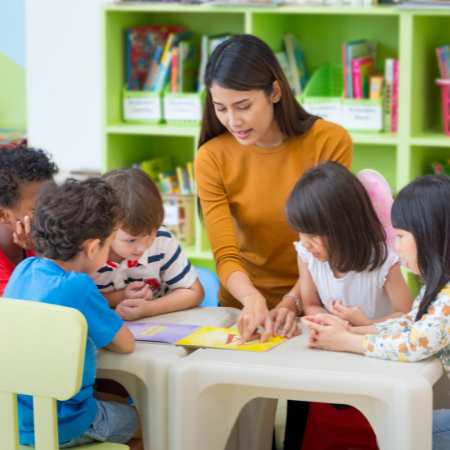 Like health care workers, grocery store clerks, police, firefighters and other essential employees that keep our cities moving, the early childhood workforce is key to a city's economic viability. As small business owners, early childhood providers were faced with tough business decisions due to decreasing child-to-staff ratios, inability to get financial resources to keep afloat, changes to health and safety regulations, and lack of access to necessities such as food and cleaning supplies for themselves and the children they serve.
Despite the increased challenges exasperated by the pandemic, the early childhood workforce has persevered and remains central to providing convenient, high-quality, safe, and developmentally appropriate care. They have shown local leaders that they are central to a city's infrastructure both in how a community responds to crises and in how they recover.
In recognition of this essential workforce and their continued dedication to a thriving community, municipal and community leaders celebrated National Provider Appreciation Day in the following ways:
Gothenburg, NE: Through the Gothenburg Early Childhood Learning Coalition, licensed providers gave parents stickers to wear in appreciation for early childhood workforce.
Johnson City, NY: A video of locally elected officials and community stakeholders was compiled to thank the early childhood workforce.
Rochester, NY: Using the bully pulpit, Mayor Lovely Warren tweeted a message of recognition for the early childhood workforce.
Below are a few ideas to consider as you think about how to celebrate this essential workforce within your community throughout the year:
Use the bully pulpit: Invite other local officials to virtually visit a local childcare center or family childcare home who has remained open during the pandemic to spotlight the important work they do.
Work across city departments: Have each city department design a thank you card or use social media to post a video testimonial.
Host or co-sponsor a supply drive: Connect local elected officials with community stakeholders to hold a community event to donate supplies and other basic needs to show appreciation for the workforce.
Connect early childhood workers with other small businesses: Collaborate with locally owned businesses to donate a gift card or offer a discount for providers.
NLC's Early Childhood Success team thanks all early childhood providers for their tireless work to create safe, high-quality learning environments for children in cities, towns, and villages across the nation.
Sign Up For Our Newsletter
Learn more about what cities are doing to improve outcomes for young children, their families and the vital workforce that supports them.