How Nashville's Cap & Connect project addresses past racial redlining, fixes safety design flaws and builds for the future
In the 1960s, a combination of redlining, urban renewal, and the development of the Interstate System lead to the I-40 Freeway being constructed directly through a thriving black neighborhood in the north side of Nashville that displaced nearly 1,400 residents. Activists at the time warned that the new freeway would isolate the community and lead to economic devastation for black-owned businesses. Based on 2020 data, they were right. Nearly 82% of the population in this area is non-white (77% is Black) with a median household income of only $23,742. In contrast, the median household income one mile away is nearly double at $51,583.

Nearly six decades after the I-40 Freeway was built, Nashville city leaders are proposing to build the Jefferson Street Multimodal Cap & Connector to reconnect the neighborhoods divided by I-40 with two specific goals. First, the cap would represent a commitment by the city to help this historically Black community heal from the social and economic impact of the freeway's construction, and second, the cap would dramatically improve mobility, access, air quality, noise impacts, and safety.
Numbers at a Glance
Project Cost
$120 million
Nashville's Project Contribution
$48 Million
Jobs Creation
1,124 Jobs
Residents Living Within 10-minute walk (.5 miles)
2,248 people
New Public Space for Residents
4 acres
Nashville is Ready to Build This "Bridge"
"Decades ago, Interstate 40 harmed and displaced an entire community," said Nashville Mayor John Cooper. "Reconnecting North Nashville's Jefferson Street community with our proposed cap is exactly the kind of project the Biden-Harris Administration's American Jobs Plan will accomplish in cities like Nashville, correcting historic wrongs and bringing prosperity to our most vulnerable communities."
"Our environments are one of the most important influences on our health, and this project has the potential to heal this community and would serve as a powerful symbol of the city's and nation's commitment to equity and justice," said John Vick, PhD of the Tennessee Department of Health. "A beautiful, tree-lined green space with bicycle and pedestrian paths that connect to Nashville's larger greenway transportation system, and new public meeting facilities where area HBCUs and neighbors can host gatherings, would go a long way toward improving the physical, mental, and social health of this historic and significant community."
Safety Upgrades and Health Benefits
Nashville is a growing logistics hub for the United States with more than 13,000 daily truck trips that pass through a particularly critical location of the proposed cap, commonly referred to as "Trucker's Curve" for its tipping potential. In 2019, Trucker's Curve experienced 24 truck-related crashes. By incorporating critical safety, ITS, and crash reduction improvements to intersections and ramps leading to the high-incident interchange on this curve, the Project will dramatically improve mobility, access and safety.
A key component of this project is to repair the Dr. DB Todd Jr Blvd bridge over I-40, which was built in 1967. Its narrow, cracked sidewalks, unbuffered from narrow travel lanes, create a hostile pedestrian environment which limits access between the city's north and south sides. The Project will replace the bridge with a 180-foot by 825-foot (3.4 acre) interstate cap that will stitch the north and south sides of Nashville back together, create new public spaces, and provide the community with the opportunity to host other public amenities, such as a community and wellness center. The project also provides public health benefits for residents and visitors by shielding the North Nashville community from air pollution and noise and will reduce the urban "heat island" effect which, according to the EPA can contribute to heat-related deaths and illnesses such as respiratory difficulties, heat cramps, heat exhaustion, and non-fatal heat stroke. Once completed, the project will make the community a safer and more connected place, generating economic and social value for the entire community.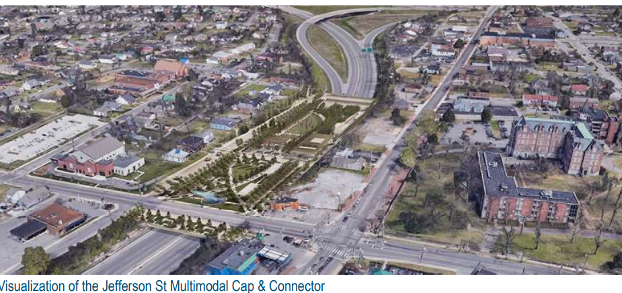 Two recent documentaries tell the story of Jefferson Street's past and challenges:
Reach Out
As discussions for a bipartisan infrastructure package progress, cities should be reaching out to their Member of Congress to explain what they need and how federal programs can support them. Click the button to tell Congress that it's time to rebuild with us!