Congress is relying on state and local governments to stabilize distressed households by connecting residents at risk of eviction and their landlords to the more than $46 billion in emergency rental and utility assistance provided by the American Rescue Plan Act and prior federal emergency relief bills. Despite this unprecedented intervention by Congress, rent relief is reaching those in need slowly. In many cases, it is too late to help renters avoid lasting harm, such as damaged credit and affordable lease terminations, just as the job market is improving.
The National League of Cities (NLC) is urging local governments to make housing stability a top priority. Multiple studies have proven that housing stability is a prerequisite for economic mobility, job security, and health and well-being – each of which is a necessary outcome to fully overcome the harm caused by COVID-19 to residents, small businesses, and communities.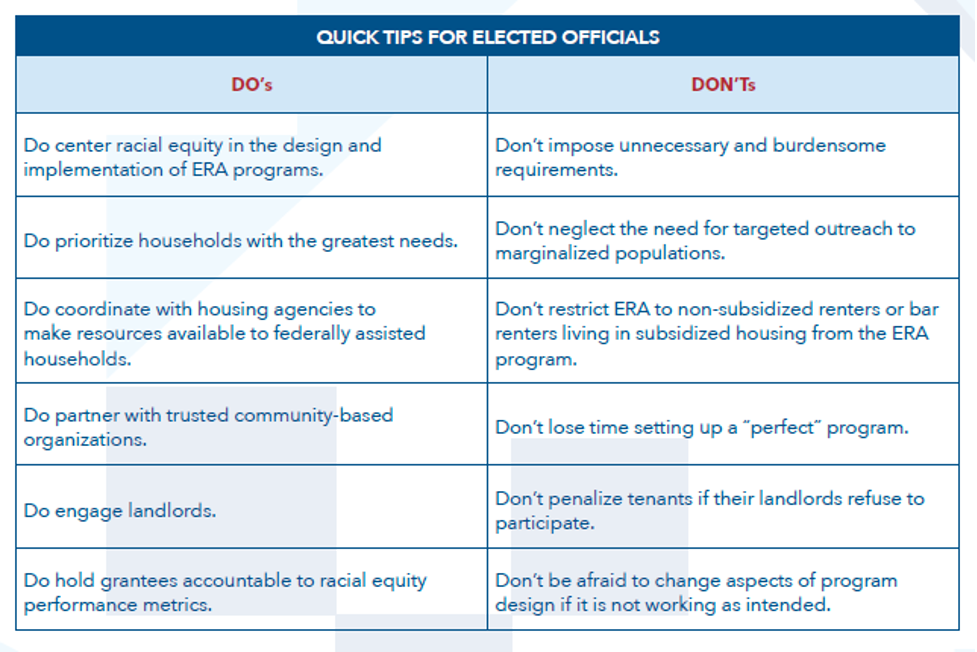 Starting with the CARES Act, NLC and the National Low Income Housing Coalition (NLIHC) have partnered to offer clear and actionable guidance to local governments to minimize obstacles and maximize uptake of rental aid, and to ensure these critical federal resources reach households with the greatest needs and are distributed equitably. Today, NLC and NLIHC are releasing a new resource for local leaders, "How to Establish and Improve Emergency Rental Assistance Programs: Suggestions for State, Local, Tribal, and Territorial Elected Officials."
This new resource gives direction to local governments to quickly improve residents' and landlords' access to Emergency Rental Assistance (ERA) Program funds. In addition to information on how to access program funds and providing principles for program design, this resource offers quick tips including do's and don'ts that local leaders can use to quickly evaluate whether local programs are enforcing onerous conditions that are not required by federal legislation or regulation.
Although rental assistance programs are the focus of this new resource, the American Recue Plan Act funded multiple programs available to local governments or their partners to intervene in housing instability and homelessness. Those programs include:
Learn More
For information on COVID-19 response, relief, and funding opportunities and information on ARPA, visit our comprehensive resource hub.