Under March 13, 2020, Coronavirus (COVID-19) nationwide emergency declaration and subsequent major disaster declarations for COVID-19, state, local, tribal, and territorial (SLTT) government entities are eligible to apply for assistance under the FEMA Public Assistance (PA) Program.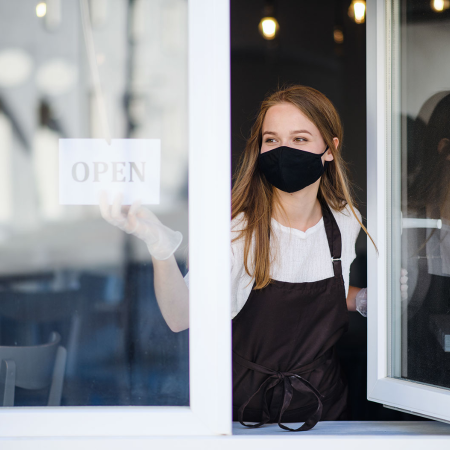 On January 21, 2021, President Biden issued the "Memorandum", which authorized FEMA to provide funding to PA Applicants for the safe opening and operation of eligible facilities. Such assistance "may include funding for the provision of personal protective equipment and disinfecting services and supplies."
On April 5, 2021, the Federal Emergency Management Agency (FEMA) issued the framework, policy details, and requirements for determining the eligibility of safe opening and operation work and costs under the PA Program.
According to the policy, FEMA may assist all eligible PA Applicants, including municipalities, with the following measures implemented to facilitate the safe opening and operation of all eligible facilities in response to COVID-19 declared events:
Purchase and distribution of face masks12, including cloth face coverings and Personal Protective Equipment (PPE)1,
Cleaning and disinfection, including the purchase and provision of necessary supplies and equipment in excess of the Applicant's regularly budgeted costs,
COVID-19 diagnostic testing,
Screening and temperature scanning, including, but not limited to, the purchase and distribution of hand-held temperature measuring devices or temperature screening equipment,
Acquisition and installation of temporary physical barriers, such as plexiglass barriers and screens/dividers, and signage to support social distancing, such as floor decals, and
Purchase and storage of PPE and other supplies listed in this section based on projected needs.
For COVID-19 declarations, the FEMA PA cost-share is 100%. The 100 % cost share includes reimbursement for costs associated with local governments' safe opening and operations. However, FEMA is prohibited from providing financial assistance if the assistance would duplicate funding available from another program, insurance, or any other source for the same purpose (e.g. other federal agencies). For example, suppose the local government received assistance from the Department of Health and Human Services for diagnostic testing equipment. In that case, they will not be eligible for FEMA PA reimbursement for the expense.
FEMA recommends that local governments direct questions regarding the eligibility of costs associated with government programs' safe opening and operations to their respective FEMA regional office.
FEMA has also issued policies for:
[1] Personal Protective Equipment (PPE): PPE refers to items such as N95 and other filtering respirators, surgical masks, gloves, protective eyewear, faceshields, and protective clothing (e.g., gowns).