The Cities Race to Zero Campaign is a Potential Platform for Collective Local Climate Action.
This Earth Day 2021, the Biden Administration will convene a Leaders Summit on Climate with dozens of world leaders that the White House says will "underscore the urgency – and the economic benefits – of stronger climate action."
One of the most clear and consistent policies of the Biden campaign and early days of his administration has been a commitment to rejoin the Paris Climate Agreement. The President signed an executive order to initiate America's recommitment was signed on Day 1 in January, and the formal process to rejoin the international agreement was completed Feb 19.
But rejoining the agreement does not simply mean picking back up where we left things in 2017 when President Trump announced the US withdrawal. The upcoming Leaders Summit will include a new emissions reduction target, set new deadlines, and begin the complex process of negotiating with other nations – especially the world's largest and most polluting economies – in preparation for COP26, the next major UN Climate Change Summit to take place later this year in Glasgow, U.K.
No matter what the federal government sets as its final NDC target or timeline, we cannot achieve it without commitment and support from cities. That is why momentum is building behind Cities Race to Zero, a campaign for collective local action that is being delivered through a partnership between Los Angeles Mayor Eric Garcetti as Chair of C40, ICLEI, CDP, the Global Covenant of Mayors, WWF, UCLG and the World Resources Institute.
A New Reduction Goal for a New Administration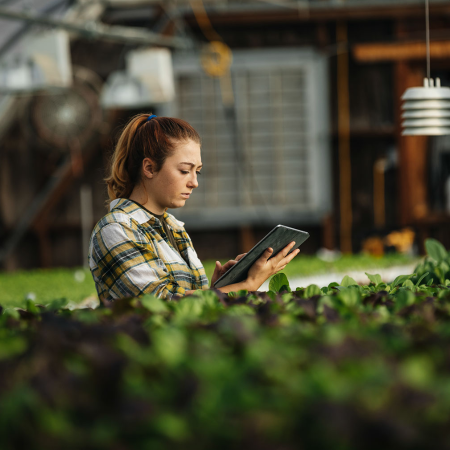 The goal of the Paris Climate Agreement is to limit global warming below 2 degrees Celsius, and preferably to no more than 1.5, compared to pre-industrial levels. To achieve this goal, each participating nation submits a national goal, called a Nationally Determined Contribution (NDC).
Under the Obama Administration, the American NDC was a 17% reduction in emissions by 2020 and a 26-28% reduction by 2025, and the signature federal initiative to reduce emissions and hit our target was the Clean Power Plan which would have assigned carbon emissions reduction goals to each state while leaving flexibility in exactly how to meet those goals.
NLC has been a vocal supporter of the Paris Agreement, and has consistently supported the implementation of the Clean Power Plan in court proceedings. However, there are two important problems with these original NDC targets: they are not nearly ambitious enough to hold warming below 2 degrees, and the U.S. is behind our pace to achieve them. Although early estimates for currently suggest we will technically meet our 2020 target with emissions that were 21.5% below 2005 levels, this was only possible due to the negative effects and restrictions of the COVID-19 pandemic. Emissions are expected to increase in the next couple of years without more significant action, and we will miss our 2025 target. 
As the Biden Administration prepares to release an update to these targets and release a new comprehensive infrastructure plan, most advocates have been pushing for science based targets, which are calibrated to a pace that would actually keep global temperature from warming 2 degrees Celsius, rather than being based on political or economic compromise. This would entail reductions of 50% by 2030, and a much stronger commitment to renewable energy, energy efficiency, transit access, and more. 
Cities Race To Zero Offers a Platform for Collective Local Action
One of the advantages to the NDC structure is that it does not need to be limited to the national level. Any government or large organization can evaluate its activities, measure emissions, and establish a plan to reduce them over time, and hundreds have already started.
Cities Race to Zero is a new campaign with a goal of collecting these local government contributions by recruiting more than 1000 cities worldwide ahead of COP26, and there are several advantages and benefits for cities of any size to join: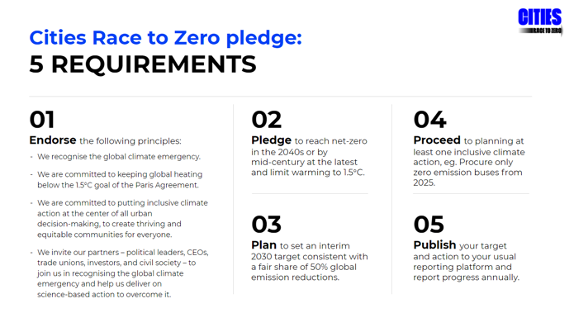 Make your Commitment Known – COP26 will be the biggest climate event since Paris and Cities Race to Zero is endorsed by the UN and all of the global city networks specifically to uplift the contributions of cities and regional governments. If your community is doing well, we want to spread the word. If your community is struggling, we want to find opportunities to improve.
Increase Your Ambition – The Race to Zero is not simply a sign-on campaign, but asks all participating cities to meet a set of 5 requirements in order to improve accountability and begin taking action now. In addition to a long range zero-emissions plan, this includes at least one short term action your city can take now to reduce air pollution, incentivize net-zero buildings, grow more local and sustainable food, divest public funds from fossil fuels, and more.
Unified Emissions Reporting – If your community already reports emissions to a widely used platform such as ICLEI, Carbon Disclosure Project, or Global Covenant of Mayors, then you already meet the requirement. In the last several years these organizations have worked hard to streamline their platforms and share data, and many of these organizations or other partners can help update your old inventory or complete the process for the first time.
The Biden Administration's Leaders Summit on Climate will be an important moment for the White House to provide more detail on its plan to mitigate and adapt to climate change from the top down. By collecting the most common, effective, and popular climate action commitments from local government, Cities Race to Zero has the potential to show the administration what cities need and what we can achieve when that is met by action from the bottom up.