Despite a tumultuous year and divisive election, record turnout at the polls in November reflects the collective work of countless organizations. Libraries did their part, often in collaboration with their local governments. They registered, informed, and hosted voters, candidates, elections officials, and partner organizations united around a common goal: increased and informed participation in one of our most essential democratic processes under most challenging circumstances. They even help prepare future voters! Those current and future voters who rely on libraries are Republicans, Democrats, Libertarians, Greens, and Independents. The library staff who assist them leave their personal views at home and assume the critical mantle of nonpartisanship that allows libraries to serve everyone, not just during election season but every day of the year.
For libraries, assisting communities in the interest of increased participation in democracy does not end on election day. After this past year, there is an added urgency to recommit to those principles that advance government for and by the people. Libraries have a longstanding commitment to the free exchange of ideas and to providing free access to the information, resources and opportunities that foster ongoing engagement within our communities. As critical civic infrastructure, libraries help bring us together and advance the promise of a representative democracy. Our communities are richer for them.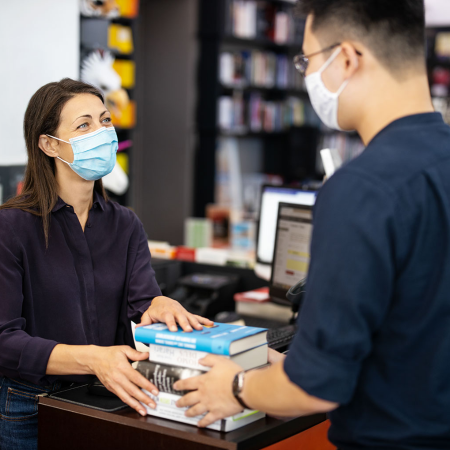 Although libraries are nonpartisan, the dedicated staff and volunteers are not indifferent. Everyone has been impacted by a year that not only brought us a contentious national election, but also a pandemic that touched every family, widespread job loss, social isolation, and civil unrest. Our society is fractured and grieving. We need to restitch our social fabric. For city leaders, both partisan and nonpartisan, their responsibility is to serve their communities regardless of residents' own party affiliation.
In this time of uncertainty, one thing is known: we will not simply return to the way things were before. This past year has been too tumultuous, too consequential. As they move forward, libraries will continue to do some important things that libraries have done for years after the votes are counted and officials are installed in office: they will bring people together to engage in conversation, to express differences, to ask questions, to seek information and build new understandings together. To heal and repair that fabric. And to chart a course forward.
Many have already started. Philadelphia's Free Library continues its "Hear Me Out" civic dialogue series, which explores topics from data privacy to redistricting. Launched in October 2020, the program "has worked to create virtual dialogue spaces that give participants the opportunity to foster authentic and personal points of connections in a time of disconnect."  Across central Ohio, nine public libraries partnered on an initiative called "Let's Talk About Race: One Book – One Community," encouraging youth and adults to read Stamped: Racism, Antiracism, and You by Jason Reynolds and Ibram X. Kendi and join virtual discussion groups, which featured members of local government and community organizations.
Libraries are also helping to connect local leaders with members of the community: The Moorestown Public Library in New Jersey offers an online series called "Meet the Council," in which members of the City Council discuss their goals and answer questions from residents. In advance of National Library Week in April, the Chillicothe and Ross County Public Library in Ohio announced a Virtual Town Hall that will feature Chillicothe Mayor Luke Feeney, State Senator Bob Peterson, and State Representative Mark Johnson, as well as a lineup of the library's community partners.
Libraries are a critical pillar of civic infrastructure. They can engage with a wide range of residents and partners to help formulate a path forward that reflects the assets and shared aspirations of the community. Public, academic, and school libraries have long been a beacon of connectivity, opportunity, education, and innovation, even more so during difficult times. With National Library Week approaching in early April, and as vaccinations are increasing and cities begin to receive much needed federal relief, now is the time to work with your library to shine that light forward.