Today, as the country grapples with overlapping crises: the COVID-19 pandemic, an economic slowdown and systemic/structural racism, the data is quickly emerging on the disproportionate impact that Black, Indigenous and People of Color are facing. These inequities are particularly jarring for local elected officials who are on the frontline, responding to the coronavirus pandemic, the fallout to the economy and the devastating impact to residents.
By July 2020, the Centers for Disease Control and Prevention (CDC) COVID data tracker showed the drastic difference between how the coronavirus was impacting Black, Latinx and White communities. Thirty-four percent of cases and 17 percent of the deaths were among Latinx people, who make up 19 percent of the U.S. population. Twenty percent of cases and 23 percent of deaths were among Black people, who make up 13 percent of the population; and 37 percent of cases and 50 percent of deaths were among White people, who make up 60 percent of the U.S. population.
The National League of Cities Race, Equity And Leadership department, in many ways, has also been on the frontlines as well – supporting local leaders committed to eliminating these disparities and who are thinking about how their response and recovery efforts can lead to more equitable communities on the other side of this crisis.
Created in 2014 REAL works to strengthen local leaders' knowledge and capacity to eliminate racial disparities, heal racial divisions, and build more equitable communities. Established six years ago in the wake of protests erupting from the police-related shooting of Michael Brown in Ferguson, MO, the challenges of that time are still stark and evident today.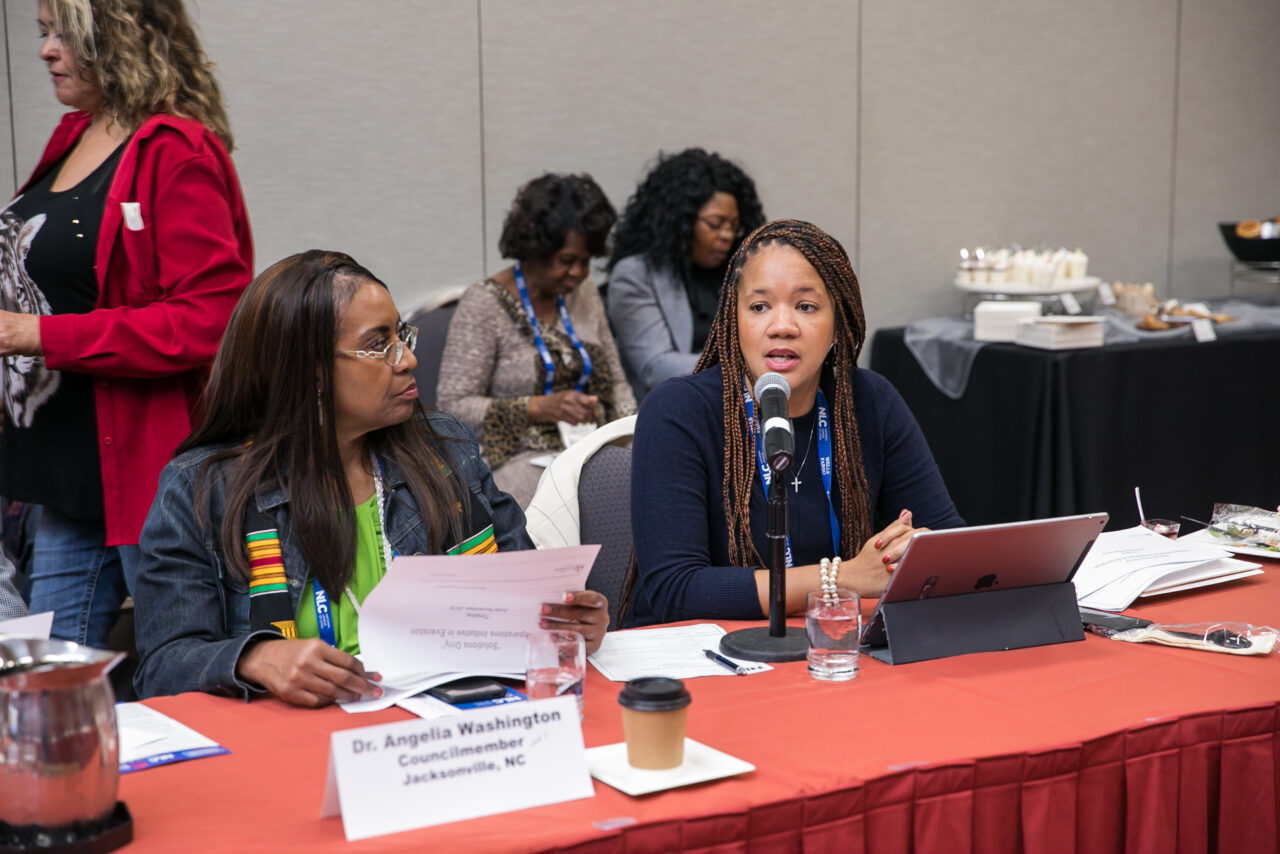 Available to NLC members and non-members, REAL offers tools and resources to help local elected leaders build safe places where people from all racial, ethnic, and cultural backgrounds thrive socially, economically, academically, and physically.
Since its inception, REAL has developed a portfolio that includes training, technical assistance, assessment work, and capacity building for city leaders. The team has produced guides that help elected officials set up and develop strategies to advance racial equity in their city as well as respond to a racial tension incident. It has also created a repository of ordinances, municipal budgets, city examples and profiles that can help elected officials and municipal staff understand the work in practice.
The murder of George Floyd last summer while in police custody heightened the attention, pushing many American leaders – at all levels – to reckon with the country's long history with race and the inequities unveiled by COVI-19.
The confluence of these two pandemics has sharpened the resolve among many city leaders to undertake the hard work of racial equity. REAL is responding to inquiries, helping cities assess their readiness and define their desired outcomes.
Nationwide, city leaders and staff are making a concerted effort to address the racial inequities in their communities. For many city leaders, it can be hard to know where to begin the work, or what to model their programs on.
REAL has created a repository that highlights examples of municipal ordinances, budgeting and a variety of strategies from cities that have made a commitment to address racial equity in a unique way. By documenting and sharing the strategies of each city, NLC hopes to create a platform that makes it easy for city leaders and staff to learn from each other and develop strong networks of communication.
Additionally, NLC created a member council, the REAL Council, which remains a key connector for elected officials committed to this work. REAL has worked with leadership in over 400 cities — from elected officials to municipal staff including equity officers.
Striving to scale and amplify the work, NLC is collaborating with the network of 49 state municipal leagues offering training, capacity building, and support to cities in the development of racial equity plans. Acknowledging that no two cities are alike as they undertake this journey and make a commitment to equity, REAL tailors its resources and tools to specific needs. 
Learn more
To access the resources available to city leaders, visit https://nlc.org/REAL. For additional information, email REAL@NLC.org.