The United States was facing a housing crisis long before the COVID-19 pandemic — one driven by high rental costs, a shrinking availability of quality housing, wage stagnation that has particularly challenged renter households and racial inequities embedded within the housing system. With evictions as one outcome of this crisis, pre-pandemic statistics estimate that one out of every 20 renters face an eviction each year, with the rate for Black renters more dire at one out of every 11 households. The long-lasting and damaging effects of eviction, and its disproportionate impact on low-income Black, Latinx, and Asian households, have only been exacerbated by the economic slowdown, surge in unemployment and health crisis resulting from the current pandemic.
National League of Cities and Stanford Legal Design Lab ("the Legal Design Lab") initiated the Eviction Prevention Cohort ("the Cohort") to assist cities in addressing this issue by developing sustainable eviction mitigation strategies. This partnership leverages NLC's housing policy expertise and deep connections to local governments, and the Legal Design Lab's interdisciplinary approach to the design of leading legal innovations.
Launching the Eviction Prevention Cohort
Originally slated to begin in March 2020, the launch of the Eviction Prevention Cohort was postponed to June in consideration of the emerging pandemic-related needs within each city. While unanticipated, this delay created an opportunity for participating cities to share lessons and brainstorm innovations that responded directly to the escalating national eviction crisis in real time.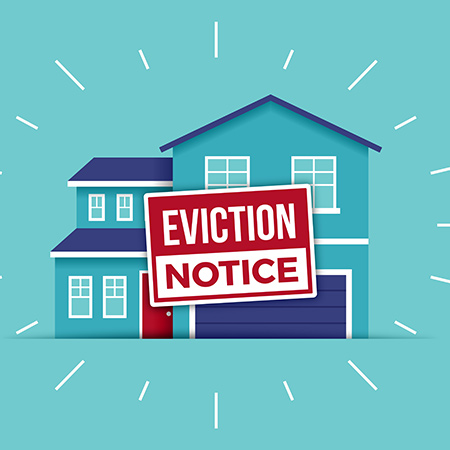 Now facing prolonged, pandemic-induced economic and public health challenges, cities participating in the Cohort leveraged peer learning and coaching from experts in the field to strengthen their eviction prevention strategies. Doing so assisted cities in developing applicable eviction mitigation strategies that maximized the use of federal coronavirus aid and optimized state and local eviction moratoria. During the COVID-19 pandemic, the Cohort became even more timely as the need for cities to design, implement, and institutionalize effective policies and programs to combat the root causes of evictions took on a heightened level of importance.
Operating over the course of six months, NLC and the Legal Design Lab led the cities of Grand Rapids, MI; Norfolk, VA; Richmond, VA; Philadelphia, PA; and Pittsburgh, PA in hands-on technical assistance, virtual learning meetings, and peer-to-peer resource sharing and collaboration. With presentations from organizations such as the Princeton Eviction Lab, the National Center for State Courts, Cleveland Foundation, Housing Alliance of Pennsylvania, the Reinvestment Fund, and Stanford Legal Design Lab — in addition to connections made with the cities of Boston, MA, San Francisco, CA, Minneapolis, MN and others — the Cohort established a pathway for intracity teams comprised of government, civic and policy stakeholders to connect, share, and ask questions in an environment of their peers.
Emerging Eviction Innovations in Participating Cities
Although participating individually, the Cohort provided opportunity for cities to collaborate on shared goal areas and, where applicable, to strategize on state-level advocacy. Apart from Grand Rapids, participating cities located within the Commonwealths of Pennsylvania and Virginia received the added benefit of strengthening statewide connections that can support the advancement of a collective anti-eviction strategy.
Grand Rapids, Michigan
With the state of Michigan taking the lead on administering rental assistance to tenants through a statewide, post-filing diversion program, the City of Grand Rapids focused its efforts on the local Eviction Prevention Program. In its third year, the program operates through a close partnership with The Salvation Army, the Michigan Department of Health and Human Services, and the 61st District Court. Seeking to streamline the process and ensure efficient use of funds, the Grand Rapids team benefited from coordination with the local court system and its local Legal Aid provider as it looked to expand pre-filing and preventative programs.
Pennsylvania Cities
Utilizing federal relief dollars, Pittsburgh and Philadelphia were able to expand their COVID-19 response efforts to include emergency rental assistance for thousands of households. Yet early rental assistance efforts were not enough to meet rapidly rising demand, leaving a need for additional housing stabilizing resources. In response, during their time in the Cohort, the city of Philadelphia launched an Eviction Diversion Program designed to provide a non-court alternative for landlords and tenants navigating non-payment disputes. Similarly, members of the Pittsburgh team used insights gleaned from the Cohort to support the launch of Just Mediation PGH, an independent non-profit organization that provides free mediation services to landlords and tenants seeking to resolve housing disputes.
Virginia Cities
Prior to the onset of the pandemic, the cities of Richmond and Norfolk were challenged by a lack of state tenant protections that subsequently left many renter households susceptible to repeat eviction filings. Possessing the second and sixth highest eviction rate in the U.S. respectively, Richmond and Norfolk used the resources made available through the Cohort to advance their pre-existing housing stabilization programs. With a focus on eviction data and landlord-tenant education, both cities have established key community partnerships to assist in the deployment of critical resources to city residents.
Furthering Eviction Prevention Efforts Nationwide
A combination of rising housing cost burdenship and low-availability of affordable units has long challenged renters, particularly low-income households of color, putting these households at higher right of experiencing eviction. However, eviction prevention and diversion programs have demonstrated success at keeping families housed, and cities such as those in the Eviction Prevention Cohort are on the frontlines of implementing and scaling these programs to support residents. By bringing together a diverse group of interconnected stakeholders across each city — including staff from housing and health agencies, legal services, courts, academia, community-based organizations and philanthropy — the participating cities have tapped into the full ecosystem of stakeholders working to reduce the risk and impact of evictions. Learn more about the strides these five cities have made to support their most vulnerable renters and build support among their local landlords by reading the full report here.
Building on this work, NLC and Stanford Legal Design Lab are launching the Eviction Prevention Learning Lab. This peer-to-peer network is an opportunity through which cities and their partners can gain exposure to best practices, policies, and tools to prevent evictions. Participating cities will have access to interactive virtual programming with experts and organizations working in the field, a shared resource hub, and opportunities for cross-city collaboration or hands-on work sessions that can equip cities and their partners with the tools they need to better address evictions in light of the pandemic.
Eviction Prevention Learning Lab
Gain exposure to best practices, policies, and tools to prevent evictions, learn more about how to apply to the Eviction Prevention Learning Lab! Applications are due February 26, 2021.