The COVID-19 pandemic uprooted transportation patterns in 2020 and, in many ways, exasperated and exposed the inequalities that exist in our communities. Measuring equity in transportation services has never been easier or as effective for decision makers as they try to find balance in both budgets and impacts. Whether adjusting bus services or deciding on the next bike lane project, looking at equity measures is a great tool to inform decisions that have a daily impact on residents' lives.
So how does a city start to measure equity among neighborhoods and their services? At NLC's City Summit, during the session, Getting Around Town: How Cities Measure and Meet Mobility Goals for Every Neighborhood, cities ranging from Charleston, South Carolina, to Tigard, Oregon to Oakland, California explained how they are using equity in transportation. We also took a deeper dive in a recent webinar with the Portland Bureau of Transportation (PBOT) and researchers at the Urban Institute (UI) who are utilizing a transportation equity lens to facilitate decisions and building tools that cities can use. From these conversations, we identified three key measures any city can learn from in order to start measuring equity in their transportation decisions in 2021.
Learn from Portland's Equity Matrix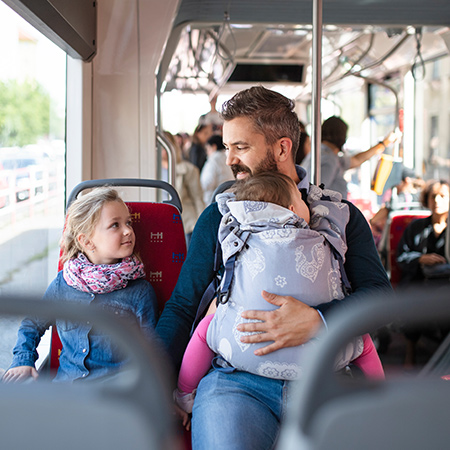 Portland, Oregon was early to measure transportation equity, put it at the center of capital improvement conversations, and put forth a model that cities like Tigard, Oregon have adapted from. Portland's model has also been supplemented by changes to a more community-centered approach for engagement and feedback that many communities feel are long overdue.
PBOT created a simplified version of an Equity Matrix to measure projects, programs and procedures to help achieve the Citywide Racial Equity Goals and Strategies. This Equity Matrix, or equity ranking index, uses three demographic variables based on national best practices: race, income, and limited English proficiency. It enables PBOT to prioritize action in areas or with residents that fall above and below the citywide averages for those demographic variables.
With this equity framework, PBOT has worked to uplift the Rose Lane Project, explore Pricing Options for Equitable Mobility (POEM) and support the Safe Streets Initiative. These projects are grounded in promoting transportation equity through improving transit service for Portlanders who must keep riding transit during the pandemic, exploring the relationship between pricing policies and transportation, and for adapting Portland's streets for restarting public life in a safe and equitable manner. Moving forward, PBOT plans to continue centering equity in its work by improving data collection and systems monitoring, investing in long-term partnerships with community-based and BIPOC-focused organizations, and using root cause analysis at the start of planning processes to define and address racial disparities. Get into the details of Portland's plans here.
Measure the Unequal Commute
Dr. Christina Stacy and the team at UI conducted a deeper dive into access to opportunity in the Equitable Transportation Report. Through a case study of four metropolitan regions — Seattle, Washington; Baltimore, Maryland; Lansing, Michigan; and Nashville, Tennessee — they created an Unequal Commute Tool to examine the inequalities in their transportation systems. By using a gravity model to calculate job accessibility, the UI team showed the mismatch between where low-wage workers reside and what opportunities were available to them. This includes looking at the time it takes residents to get to jobs, schools, libraries, and hospitals via both public transit and automobile, creating an access to opportunity measure. Through this measure, discrepancies between access to opportunities and how they can differ by race and ethnicity and for night-shift workers becomes clearer. By centering equity in transportation decision making, we can create a baseline and pilot metrics to assess data gaps, racist planning and discriminative policies.
Take a look at the findings between the four metro areas here. Moving forward, the UI team hopes to further assess equity in transportation with a focus on: people with disabilities, meaningful community engagement, and coordination with other city planning divisions, such as land use, zoning and housing agencies.
Use New Spatial Equity Tools
Through data analysis and visualization, UI is tackling the disconnect between a commitment to reducing racial disparities and the ability to measure equity. Researcher Alena Stern and the team at UI created a Spatial Equity Data Tool to help assess racial, economic and geographic representation of user-uploaded data points. Example of questions that can be evaluated through the tool include:
Are wi-fi hotspots unevenly located in your city?
Do all residents have equitable access to bike share stations?
Does your dataset accurately reflect your city's population?
What groups or neighborhoods are underrepresented?
The tool combines both spatial and demographic disparities in cities across the U.S. to quickly identify biases and aid in policy decisions. Additionally, the tool can be used for data visualization at community meetings, city council proceedings or other public engagement events. Users can view sample datasets and upload their own data to measure disparities.
Be A Part of Building Better Measures
There are still gaps in assessing transportation equity in cities, and more cities will add to measures and decision-making lenses that can increase access to opportunity through investment in infrastructure. By seeking out meaningful community input, cities can create transportation networks and land use structures that support health and well-being, environmental sustainability and equitable access to resources and opportunities. For more information and a link to the slides presented by PBOT and UI at NLC's latest webinar, please visit here.