The City of New Rochelle is in the middle of a remarkable once-in-a-generation redevelopment of its Downtown Corridor across 12 million square feet to build thousands of new units of housing and create an environment where New Rochelle can lead on culture, community, and innovation. But like any new building, our redevelopment is also prioritizing the amenities and quality-of-life that come along with it, including doubling down on our transportation and technology strategy that New Rochelle is integrating into the very fabric of our transformation into a smart city, a key component to encourage and promote future growth. And one of the city's "smartest" investments to date has been its new free, on-demand, electric shuttle service Circuit New Rochelle (NR).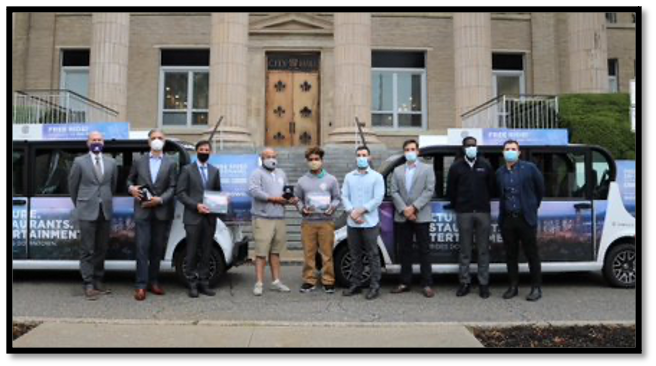 As we transform New Rochelle, we realized we needed better connections to our Downtown neighborhoods. In Summer 2019, the city launched a pilot program with Circuit to create a fare-free, on-demand electric shuttle service running Downtown and provide a viable public transit option around the city. Riders can request through the app or wave down a car. The employee drivers also serve as ambassadors for the city. The pilot showed promising results and as more people begin to call New Rochelle home, we expanded the service. Here's why:
Visitors to New Rochelle now have a direct connection from the gateway to our city, the Metro North Train Station, to shop at our businesses, eat at our restaurants and visit our growing arts and culture scene. Residents and future residents may not necessarily require a car all the time and all of our 32 redevelopment projects are within the shuttle service area. Simultaneously, the city is promoting transit equity by providing new connections to lower-income neighborhoods, a core component of Circuit's mission.
The electric shuttle is also expanding our city's electric vehicle initiative, which includes the city's growing fleet of electric vehicles and charging stations to make New Rochelle more sustainable. In the first year of operation, Circuit NR completed 34,000 passenger trips and nearly 40,000 vehicle miles were saved. That means less wear and tear on our roads, less traffic and a cleaner and leaner city since not one ounce of gasoline is used. The New York State Department of Transportation recently recognized Circuit and the City of New Rochelle with the Clean Air NY Award for their commitment to sustainability.
The service is also adaptable, flexible and resilient in times of crisis, including during the height of the public health crisis. Circuit NR pivoted to partner with 511NYRideshare to provide pandemic transportation for visiting nurses working at the Montefiore Hospital in New Rochelle, showing how quickly the service can adapt to meet the needs of our city.
As New Rochelle continues to recover and reimagine its Downtown assets, the electric shuttles are quickly becoming a key part of our smart city, representing our future goals of reducing our carbon footprint, decreasing reliance on cars and most importantly connecting our entire Downtown for the future.