This year, I want to harness the power of Giving Tuesday. Like in years past, Giving Tuesday is an opportunity to give back. This year, with so many of our communities responding to a surge in coronavirus infections, it is critically important that we consider how we can uplift our residents for the holidays.
Mr. Rogers famously said, "look for the helpers. You can always find people who are helping." And after months of watching our friends, families, neighbors and communities struggle, I want to remind us that there are helpers. Private and nonprofit partners helping and standing on the frontlines with you as a local leader.
Eat Local
Restaurants have seen a major impact as states and cities instituted curfews and stay-at-home as well as shelter-in-place orders. With infections rising again, restaurants are having to adapt again, with many moving to online ordering. As many of our favorite neighborhood restaurants still struggle, this Giving Tuesday, let's commit to 'eat local' to help out our nearby bar or favorite restaurant.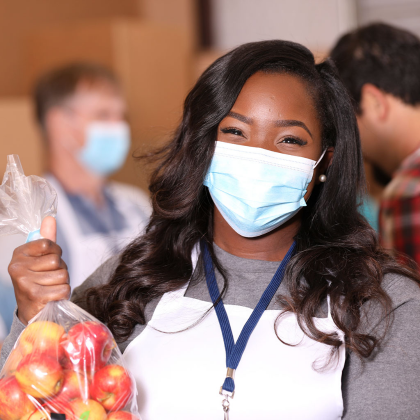 Support a Food Bank
We've seen the images all over our TV screens. Hours-long wait and winding lines as families and individuals wait for donations of food to get them through another day or week. So many of our residents are suffering and local nonprofits and food banks have been key to keeping many families afloat and affording them a holiday season that looked a little normal. Please consider supporting a food bank on Giving Tuesday – their work has been heroic.
Shop Small
The numbers are staggering: More than 100,000 small businesses are expected to close permanently due to COVID-19. What started as a temporary closure has turned into an unexpected permanent situation for many small business owners. As you think about where your support is best needed, I would encourage shopping small for your holiday gifts. Our small businesses need your help and would welcome your support. Consider making a list and sharing on your own platforms and encouraging residents to support local small businesses.
Highlight Minority-owned Businesses
While small businesses on average have been negatively impacted by COVID-19, minority-owned businesses have seen even a more disparate impact. According to Fortune, the number of active Black small business owners fell 41 percent from February through April (nearly twice the rate of non-Black-owned businesses). Give an extra boost this holiday season to your businesses owned by Black, Indigenous, and People of Color.
Like so many things in 2020, we are having to think differently about the holidays and how we support our communities during this time. If we all commit to these small efforts, we can lessen the impact on our neighbors and favorite local spots. Small and minority-owned businesses are what make our communities unique and are the spirit of the American dream. I hope you can use Giving Tuesday to offer your residents some encouragement for building community and supporting small businesses. Let's be the helpers.
Read more about the impact of COVID-19 on businesses.