As our country faces an unprecedented public health crisis, local leaders are implementing new procedures to mitigate the spread of COVID-19 and protect the health and safety of residents. These new procedures are necessary so development and construction can continue in jurisdictions across the country. This includes permits which need to be reviewed and approved for residential and commercial construction and inspections that need to be completed to ensure adherence to building and electrical codes.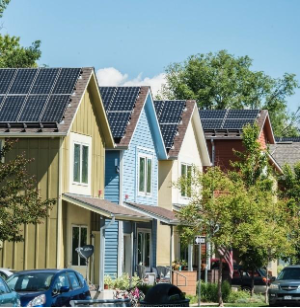 Cities, towns, and villages need strong partnerships and innovative solutions to maintain critical operations while also making our communities more resilient and supporting essential local industries. With many city officials now working from home, building and development departments throughout the United States are considering new policies and procedures to conduct city business remotely. Cities have an opportunity to support both remote working conditions and sustainability goals by utilizing new ideas for online solar and storage permitting.
Several jurisdictions have already made the switch. North Las Vegas has implemented a one-page application and permit. While Los Angeles County shared their virtual inspection process for solar systems and other common residential applications. Meanwhile, the International Code Council (ICC) has compiled a list of best practices for municipalities to go virtual for permits and inspections. Without adaptability to remote working needs, in-person permitting and inspection delays can meaningfully impact both a resident's ability to see electricity cost savings from residential solar generation and a jurisdiction's ability to meet sustainability goals. An online process also saves local governments time and money, enabling them to focus on other priority issues.
In addition, Solar Automated Permit Processing (SolarAPP) is a new, no-cost tool for local governments developed by the National Renewable Energy Lab and numerous stakeholders in the building safety community including the International Code Council, International Association of Electrical Inspectors, and the National Fire Protection Association, among others. SolarAPP enables the local implementation of instantaneous permitting for licensed installers on qualifying solar projects, all while maintaining safety and reliability through rigorous compliance checks. The system also produces an inspection checklist with the goal to make it easier to confirm compliance in the field. Cities can read more about the benefits and abilities of the SolarAPP tool here or at the SolarApp website. Cities interested in participating in the SolarAPP can reach out directly to solarapp@nrel.gov.
Learn more about SolarAPP
Cities interested in participating in the SolarAPP can reach out directly to solarapp@nrel.gov.