This has been a year of unprecedented challenges and few are scarier than the repercussions of COVID-19. As Halloween and other fall gatherings are quickly approaching, city leaders are once again torn between the traditional role of supporting access to activities that bring their communities together and the need to keep residents safe and healthy through distancing and other safety measures. Thankfully, the Centers for Disease Control and Prevention (CDC) has put together a list of considerations for communities to consider when laying out their plans.  And some local leaders are already pioneering ways to ensure that Halloween is real treat this year.
The good news is that communities can still find ways to celebrate, but it may need to look different.  Here are some steps for you to consider about how to keep residents safe during Halloween festivities:
Familiarize yourself with the CDC guidance and direction from your local health officials.
Every city, town, and village is different and may be experiencing different levels of community spread. As flu season approaches, it is vital to stay in touch with your local health department about recommendations and guidance for your specific jurisdiction. Assessing current COVID-19 levels and whether infections are increasing or decreasing in your community will help you in determining if you should postpone, cancel, or limit gatherings.  Local leaders should utilize guidance provided by the CDC to gain insight into considerations and best practices regarding holidays during the COVID-19 pandemic. For Halloween, the CDC has ranked popular holiday activities into "low", "moderate", and "higher" risk categories that can help guide your local conversations. 
Actively communicate with your residents about the risks associated with some holiday-related activities, and the amount of community spread in your area.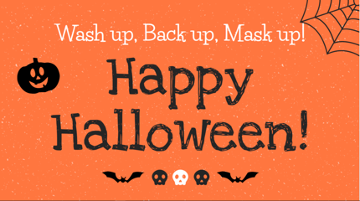 Local leaders have a unique role to play in communicating with residents about safe and healthy practices during these uncertain times. As a trusted local voice, it is essential to proactively give your constituents information about the risks of certain activities, the importance of preventative measures like mask-wearing, social distancing, and isolation after exposure. Consider providing this information in multiple languages and utilizing trusted community voices to ensure you are reaching everyone in your community. Consider doing specific outreach to faith and civic leaders who may be able to spread the word through their networks as well.  Consider fun messages that drive the message home but keep with the spirit of the occasion.
Consider pro-active ways to keep residents engaged, celebratory and safe.
Following CDC advice, many residents have been safely enjoying outdoor activities during the spring and summer. As the colder part of the year approaches, many will now be struggling to stay connected to civic and family ties in a way that safely prevents the spread of COVID-19. As local leaders, providing guidance and access to safe programming will help your residents as they grapple with how to keep traditions alive in this new reality.  Consider the opportunity to partner with local, diverse, minority-owned businesses to both promote community connectedness and local economic recovery. In Sioux Falls, South Dakota, the city has created the Sioux Falls Alive program with events like a drive-in concert and outdoor fall festival. In Tampa, Florida, the city will have its first annual virtual Halloween Hunt along the Riverwalk.  Whether in-person or virtual, there are many creative ways to engage residents during Halloween and throughout the fall.
Determine the feasibility of freeing up public space to allow people to take their festivities (responsibly) outdoors.
While many communities may need to limit or cancel activities on city-owned property, local leaders should consider the feasibility of using areas like public parks and other outdoor properties to allow celebrations like car parades that comply with public health guidance or consider a city-sponsored Halloween lights decoration or spooky forest to keep with the spirit of the holiday. In Auburn, Alabama, City of Auburn employees will be filling bags with candy at a drive-thru trick-or-treat at the Auburn Parks and Recreation Complex!
Have a plan for enforcement of any temporary City rules regarding masks, gathering restrictions, or other measures to slow the spread.
The CDC has called on all Americans to wear masks to prevent COVID-19 spread.  Make sure to be clear with residents about your local and state requirements for mask-wearing as well as additional restrictions that may be in place for Halloween.  Work directly with your police department and community-based organizations to develop a plan for messaging and enforcement that keeps residents safe.  Much like communicating plans for safe activities, local leaders should provide clear communications with residents, like those of Pacific Grove, California about any local fines associated with masks or other restrictions.