Public libraries today serve as dynamic community hubs. Everything from family story time to teen afterschool programs to workforce development services and more happens in the library. All the resources, programs and services libraries provide for their communities – in person and online – depend on qualified staff. Prioritizing equitable and inclusive hiring practices and ongoing professional development can help ensure library workers are representative of the communities they serve. Supporting those staff supports the community.
A 2021 survey by the Public Library Association (PLA), a division of the American Library Association (ALA), examined staff roles, salaries, demographics, hiring and retention practices, and equity, diversity and inclusion (EDI) work in our nation's libraries. The results show libraries are already actively engaged in creating inclusive, welcoming spaces for community members and staff alike. Continued investment will be crucial in advancing that work and expanding the benefits it brings.
Representation Matters
Data from the Institute of Museum and Library Services (IMLS) shows that over half of libraries nationwide function as a part of their municipal government. Those libraries receive 92 percent of their funding from local government, and their staff are part of the municipal workforce.
NLC's research has found that "BIPOC populations in the US are highly underrepresented in the municipal workforce." The same is true for the library workforce. PLA's research has found that on the whole, the demographics of library workers do not reflect that of the US population. BIPOC are underrepresented, while white people – and white women in particular – are overrepresented. Data from the Census Bureau's American Community Survey supports this finding (Figure 1).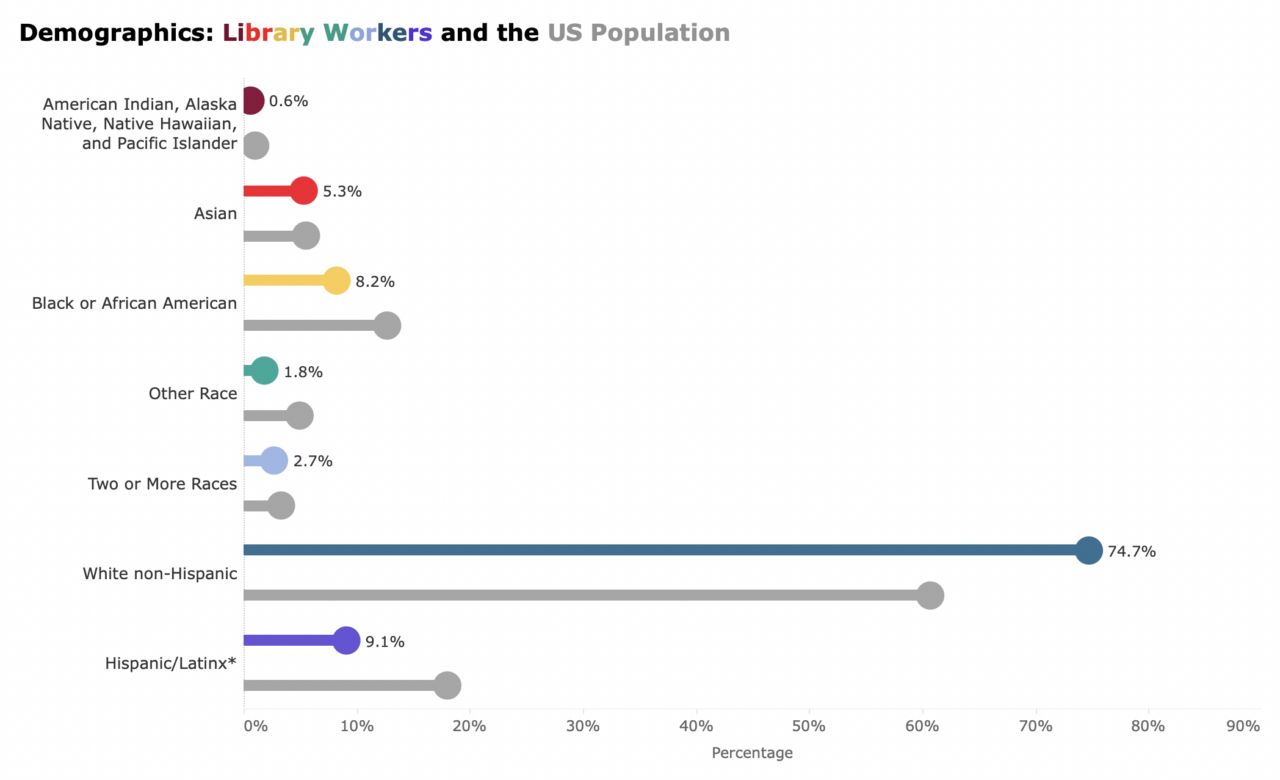 It's important for community members to see themselves reflected in the people and collections they find at the library. Representation matters, and diverse perspectives and teams lead to more creative problem solving. ALA President Lessa Pelayo-Lozada writes that representation is in many ways about "helping people feel seen and heard." That is central to the "roles that libraries play in building community."
That context and that purpose is the bigger picture to keep in mind in discussions of demographics and diversity in the workforce.
Hiring and Retention
Diversifying any profession takes continuous purposeful effort. PLA's 2021 survey reviewed current strategies for hiring and retaining staff from underrepresented groups, included but not limited to gender, race, sexual orientation and ability. Overall, 92 percent of libraries use at least one of the hiring strategies identified (Figure 2).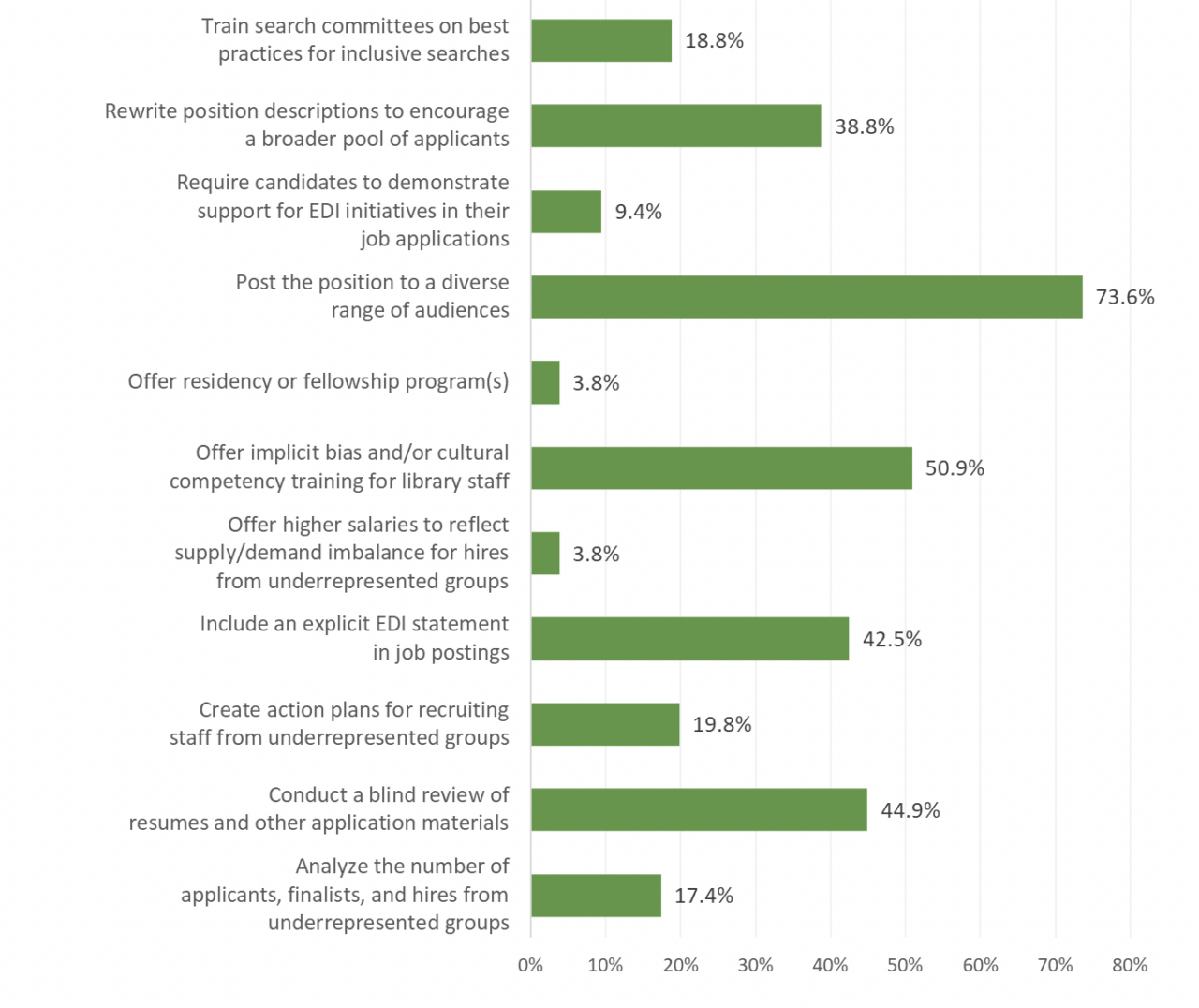 A challenge that public libraries identified in implementing hiring strategies is that, as part of a local government, they may not have control over recruitment or hiring policies or salaries offered. This suggests an opportunity for municipal leaders to engage library leaders in conversations and decisions about recruitment, hiring, salaries and retention.
Some practices can be improved without a change in policy. For example, offering training for staff on hiring committees can help raise awareness about inclusive practices and cultural competencies. PLA's survey respondents also identified innovative practices to diversify applicant pools through partnerships with local schools, community colleges and other organizations.
The survey results highlight ways in which public libraries undertake EDI activities in their local communities, ranging from outreach to collections to accessible spaces and websites. Virtually all libraries (95.2%) engage in at least one EDI activity, and more than a quarter have formal goals related to EDI. Municipal leaders can leverage and grow these library assets as part of collective efforts to prioritize EDI.
Supporting Libraries, Supporting Communities
Libraries are wellsprings of potential, offering vital resources that drive literacy, education, access, innovation and much more. However, like many public services today, libraries face significant challenges when it comes to developing and diversifying the workforce. PLA's research suggests opportunities to build on the good work already happening across the country, supporting library workers who support their communities. When public libraries and local governments work together towards that goal, the whole community benefits.
About the Author
Sara S. Goek, Ph.D. is Project Manager, Data and Research, at the Public Library Association, a division of the American Library Association. She is responsible for supporting PLA's data-related initiatives and developing related training content.