Finding the right grant can be the difference between offering great services for your community and coming up short. NLC helps connect cities with funding opportunities through Grant Access, the most complete database of federal, state, foundation and corporate grants available. Member cities receive one free license, a savings of over $1,000 annually.
Join hundreds of cities using this tool and enjoy one-stop shopping for grants, organized in 21 different categories, plus discussions and articles to help with the application process and alert tools to keep your search on track.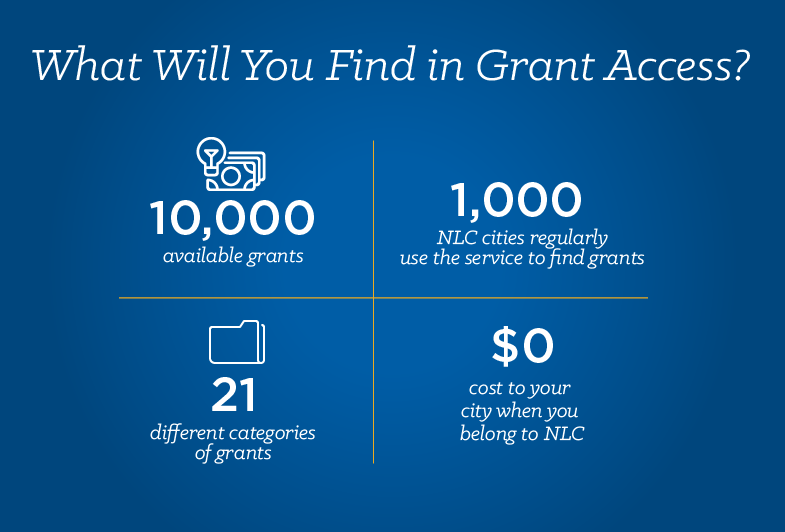 Getting Started with Grant Access
The first license is free. Sign up now to use the service.
Lexipol's Grant Access Grant Writing Services are custom, comprehensive solutions to fully execute the coordination and creation of high-quality grant applications.
With over $54 billion available to government entities through grant programs nationwide it can be difficult to navigate through the grant process of have time to create a fully developed grant application. Have the Grant Access team become your partner through the grant application process from start to finish, giving you the peace of mind knowing that seasoned grant experts are researching, writing, and assembling your grant application.
NLC members receive 25% off normal rates.
Complete Grant Application Service: Application, Narrative Development & Review
Normal Rate: $5,000 per grant application, per project, per single applicant
NLC Member Rate: $3,750
A dedicated project manager will work NLC Members to find and identify an eligible grant for the intended project. Once a grant has been selected for the project, Lexipol will review the grant specifics with the applicant to determine what information will be needed to assemble the application and draft narrative elements. Upon receipt of these materials from the applicant, Lexipol will begin to construct the written sections of the grant. Based on information provided, Lexipol will be able to take care of the remaining elements as well as adding your final narratives directly into the application.
Once the grant application is assembled including narratives, Lexipol will contact the applicant to review the entire application. After the final version of the application is approved, the grant is submitted to the grant maker. This is the perfect option for the grant applicant who has been turned down multiple times, is new to the targeted grant program or just doesn't have the time to put together the application themselves.
What's included:
Dedicated Project Manager
Customized grant research specific to the departments funding needs
1:1 Unlimited, personalized grant consulting from Senior Grant Consultants
Customized, written grant narratives based on information provided from the department
Completion of grant application by GrantsHelp team
Grant Consultants will provide unlimited reviews of department's application
Request Grant Assistance Services
Tips to Get the Most From Your Grant Access Account
Be sure your staff knows how to use the database by scheduling a demo during a council or staff meeting. Contact Linda Gatti for more information.
Be forward-looking in your grant search: set up an alert and know right away when a grant in your area becomes available. Export application deadlines and other important dates to your Microsoft Outlook calendar.
Update your user name and password often for greater account security.
FAQs
Who is this service available to?
Member cities each receive one user license.
Can my city get more than one license?
Member cities can obtain a second license for less than half the regular cost.
Is training available?
Remote demonstrations are available upon request. Contact Linda Gatti.
---
Comments or Questions?
Linda Gatti
Program Director, Strategic Partnerships & Development
gatti@nlc.org