The National League of Cities (NLC) supports the Census Bureau's mission to "serve as the nation's leading provider of quality data about its people and economy." These resources have been assembled to provide local leaders with objective information about and resources to prepare for the upcoming 2020 Census.
May 26th, 2020: The Census Rapid Response Grant closed to new applications on Friday, March 13th, at 11:59pm. Grantees have been selected. All applicants have been notified of final decisions. Please see the "NLC Census Rapid Response Grant" tab below for more information.
Cities Count Census Toolkit
NLC has created a toolkit of census fliers, posters, and social media assets that local municipal and nonprofit leaders can customize with their own logo and census contact information. 
Looking for actionable ideas for your Get-Out-The-Count (GOTC) outreach for the 2020 Census? Check out our guide: NLC Tips for a Remote Get-Out-The-Count (GOTC) Effort. 
How does your community's self-response rate measure up? Check out your area on the City University of New York's Hard-To-Count map or the Census Bureau's ROAM map. 

Feeling cheeky? Start a response rate challenge to get your rates up and the competitive juices to work for a fair and accurate count!

Need out-of-the-box census communications materials you can customize with your logo and contact information? Use our toolkit.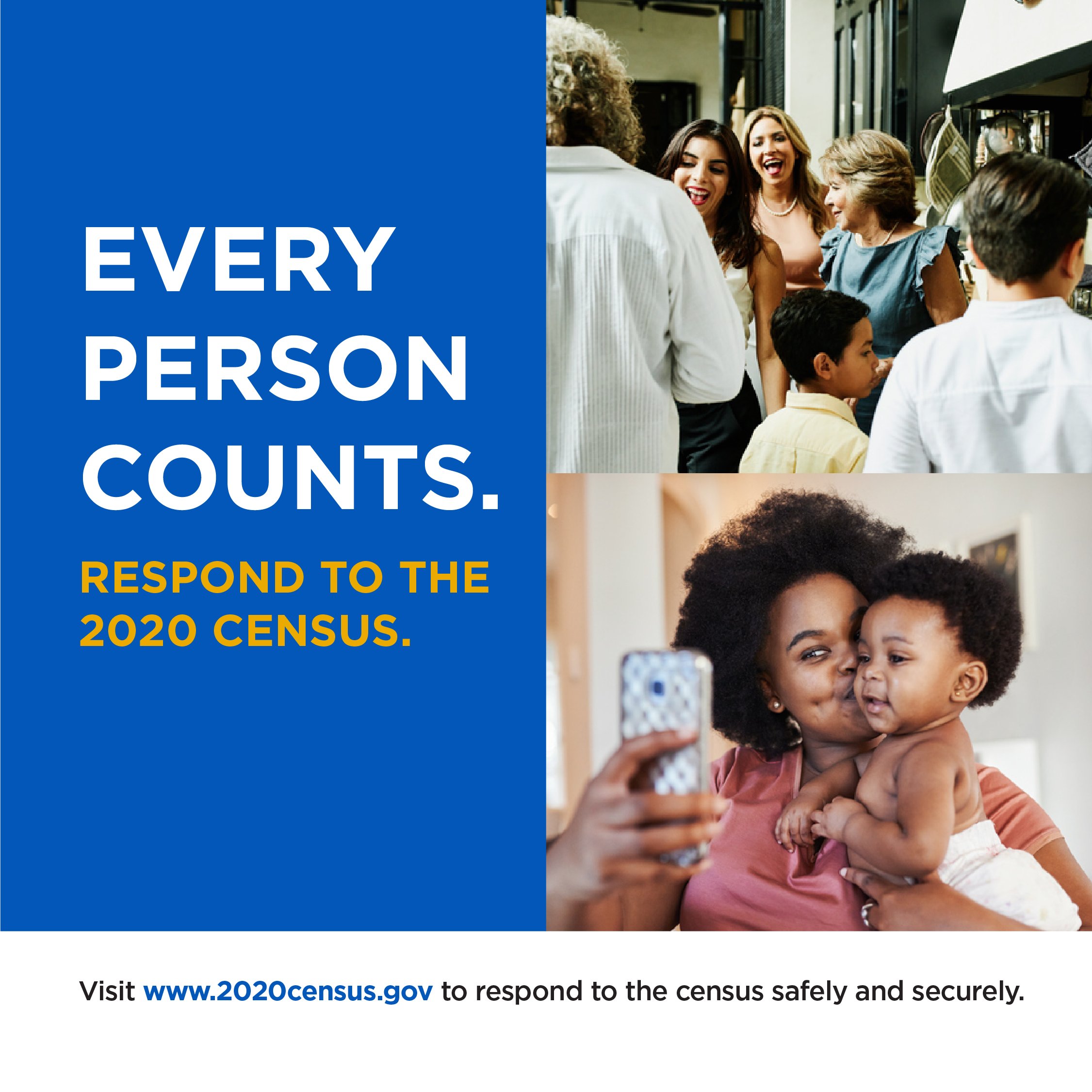 Why the Census Matters to Municipalities
An accurate census helps ensure fair representation at all levels of government.
The census directly impacts the funding your municipality will receive over the next decade.
The census provides the most reliable and complete data for research, decision making and planning for both the public and private sectors.
The Census is Happening Now!
Update on Census Bureau Operations: As of April 13, 2020, the Census Bureau has released a plan to extend the timeline for enumeration. The Census Bureau stated in a press release: "Under this plan, the Census Bureau would extend the window for field data collection and self-response to October 31, 2020, which will allow for apportionment counts to be delivered to the President by April 30, 2021, and redistricting data to be delivered to the states no later than July 31, 2021." 
Please see this and other operational adjustments here. 
You can complete the Census over the phone, online, or by mail. Use the links below to do it online or over the phone:
U.S. Census Bureau Resources
Below are direct links to U.S. Census Bureau resources that may be relevant to your community:
Partner Resources for Hard-to-Count Communities
Below are direct links to resource pages from census partner organizations:
Census Operations
Broad Coalitions
Census and Cities
State Resources
Local Stakeholders
Children
People Experiencing Homelessness
African American Community
Asian Americans and Pacific Islanders Community (AAPI)
Latino Community
LGBTQ+ Community
Middle Eastern and North African Descent (MENA)
Native Americans / American Indians
Rural
Persons Over 50
Business Community
NLC Census Resources for Municipalities
CitiesSpeak Blogs
Why the 2020 Census is Essential to Municipalities
National Census Day at National League of Cities!
Cities and the Census: A Call to Action
Cities and Libraries Partner to Achieve a Complete Census Count – How We're Doing it in Kansas City
Resources
Municipal Action Guide (MAG)
Comprehensive "get started" guide for your municipalities 2020 Census preparedness efforts.
City Census Checklist
Quick checklist to ensure your municipality is on track to be counted.
Census Timeline for Cities
High-level timeline of Census Bureau activities that take place in communities or require municipal involvement.
Fast Facts and Talking Points for Constituents
High-level talking points for local officials to use to respond to constituent inquiries.
The "Citizenship Question"
Updates on the progression and ultimate removal of a untested citizenship question to the 2020 Census questionnaire.
Make Cities Count: Census 2020
This 90-second video can be shared on a city's social media or used on their public access channels to raise awareness of the Census.
Templates for Municipalities
Cities Count Census Toolkit
NLC, in partnership with Column Five, have created a downloadable and customizable toolkit of Census specific assets for local municipal leaders. View this new toolkit for:
Actionable ideas for your Get-Out-The-Count (GOTC) outreach for the 2020 Census.
Out-of-the-box census communications materials you can customize with your logo and contact information.
Service Provider (3-1-1) Knowledge Base Template
Many municipal governments use service providers or 3-1-1 systems to respond to census inquiries. Use our template knowledge base to train your providers or 3-1-1 operators to respond to questions with accurate and timely information. Word Doc file to be edited and customized for your community as needed. Base template produced by and thanks to the City of Philadelphia.
NLC Technical Assistance Census Webinar Series
Sign up for our Census & Voting Webinar Series here!
This series is an opportunity for city and community leaders to gain and share key insights with experts on elections and census. The sessions are resource- and implementation-driven to help your organization address critical Get-Out-The-Count (GOTC) and Get-Out-The-Vote (GOTV) challenges, centered around equity, inclusion, and building safe census and elections infrastructure during a pandemic.
We'll be hosting online convenings every other Thursday at 3pm Eastern Time.
June 11: Leveraging Text Campaigns & Your Contact Lists for Census GOTC
July 9: Targeted GOTC: Data & Tools for the Summer Sprint
August 6: Transitioning from Self-Response to Nonresponse Follow Up (NRFU) Outreach
NLC Census Rapid Response Grant
The Census Rapid Response Grant closed to new applications on Friday, March 13th, at 11:59pm.
We are grateful to the hundreds of applicants who submitted proposals. We will make award announcements in the coming weeks with funds disbursed soon after. We look forward to learning about the incredible work everyone is doing to ensure a full and accurate 2020 Census.
As we hear of any additional funding opportunities for cities, please know that we consider it our responsibility to share that information with you immediately and will do so here at www.nlc.org/census. We encourage you to also look for other funding sources if your needs cannot be met by the NLC Census Rapid Response Grant.
If you submitted an application and have any questions, please see the FAQ below or email us at censusrapidresponse@nlc.org.  
Please note, the Census Bureau has updated its timeline in response to COVID-19. We will provide COVID-19 guidance to grantees upon approval of their grant. Please continue to follow guidelines set out by the CDC and the U.S. Census Bureau.
FAQ